Arrest Made in Thelma Drive Shooting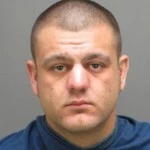 Wichita Falls Police have arrested 28-year-old Dmitri Zanthony Williams shortly after noon today (July 15) in the 1800 block of Grant Street. Williams was wanted on an Aggravated Assault warrant in reference to the shooting incident last Thursday (July 11) on Thelma Drive.
Williams was arrested on the Aggravated Assault warrant and was also charged with new charges of Aggravated Assault and Unlawfully Carrying a Weapon as the result of an incident that occurred today on Fenoglio Ave.