Fire Destroys Downtown Structure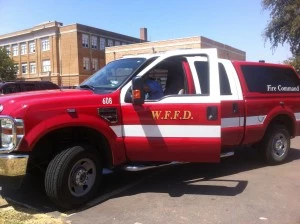 Nine Wichita Falls Fire Department units and more than two dozen firefighters responded to a fire call just after midnight on Austin.  A two story structure at 1209 Austin was completely engulfed when they arrived.
The home was abandoned but was reportedly being used as storage for Faith Mission.  Some neighbors were evacuated as a precaution. Fire officials say the fire is suspicious and is under investigation.  As of 7 am Thursday morning firefighters remained on the scene as the structure was still smoldering.