President Trump Calls Manchester Bombers 'Evil Losers' as ISIS Claims Responsibility
President Trump, currently on a trip to the Middle East, issued remarks on Monday night's horrific explosion in Manchester, England. "So many young, beautiful, innocent people living and enjoying their lives murdered by evil losers in life," Trump said. "I won't call them monsters because they'd like that term. They'd think that's a great name."
An apparent suicide bomber detonated a device that in the Manchester Arena foyer at the end of an Ariana Grande concert, killing 22 people, many of them young girls, and injuring scores more. The Islamic State has claimed responsibility for the massacre.
Investigators are scouring the scene for clues. One arrest has been made in connection with the event, though no details about who it is have been released as of yet. Police may already know the identity of the bomber himself, though they have not revealed that yet either.
Subscribe to Newstalk 1290 on
Authorities are officially calling the Manchester incident a terrorist attack. The British prime minister, Theresa May, gave a televised address in which she said, "We now know that a single terrorist detonated his improvised explosive device near one of the exits of the venue, deliberately choosing the time and place to cause maximum carnage and to kill and injure indiscriminately."
She continued, "This attack stands out for its appalling, sickening cowardice, deliberately targeting innocent, defenseless children and young people who should have been enjoying one of the most memorable nights of their lives."
The attack was the deadliest in Great Britain since the July 7, 2005 bombings that killed 52 in London. This past march, a terrorist killed six people, also in London, by ramming his car through a crowd of pedestrians on Westminster Bridge, near the U.K. Parliament building.
Other European leaders have offered their support and condolences. From German Chancellor Angela Merkel: "This suspected terrorist attack will only strengthen our resolve to continue to work together with our British friends against those who plan and carry out such inhumane deeds."
French President Emanuel Macron:
J'adresse mes pensées au peuple britannique, aux victimes et à leurs proches. Nous menons ensemble le combat contre le terrorisme.

— Emmanuel Macron (@EmmanuelMacron) May 23, 2017
(Translation: "I address my thoughts to the British people, the victims and their loved ones. We are leading the fight against terrorism together.")
Spanish Prime Minister Mariano Rajoy:
Condeno el ataque de Manchester. Mi pesar a las familias de las víctimas fallecidas y mis deseos de pronta recuperación a los heridos. MR

— Mariano Rajoy Brey (@marianorajoy) May 23, 2017
(Translation: "I condemn the Manchester attack. My condolences to the families of the deceased victims and my wish for a speedy recovery of the wounded.")
In Bethlehem, while meeting with Palestinian President Mahmoud Abbas, President Trump added, "We cannot stand a moment longer for the slaughter of innocent people and in today's attack it was mostly innocent children. The terrorists and extremists and those who give them aid and comfort must be driven out from our society forever."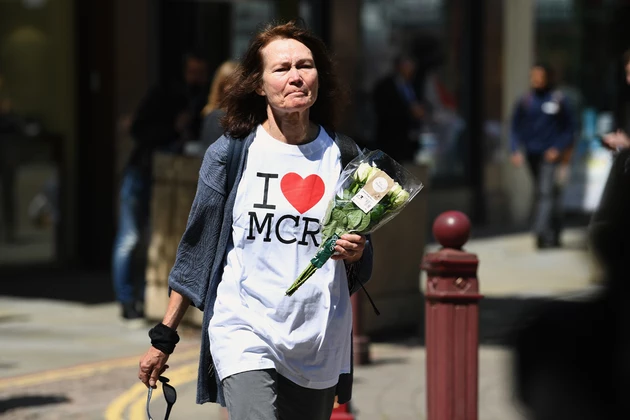 Source:
President Trump Calls Manchester Bombers 'Evil Losers' as ISIS Claims Responsibility