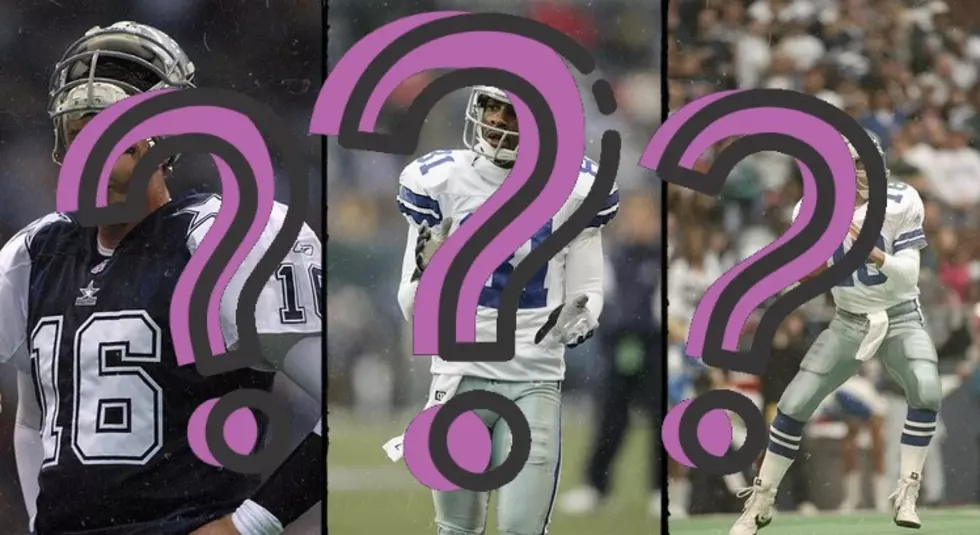 Ten Players You Forgot Were on the Dallas Cowboys Throughout the Years
Getty Images
When you think of the silver helmet with the Star on the side, you don't think of these guys. I guarantee it!
Well...it's Super Bowl week and I am once again sad that my Dallas Cowboys are not playing in it on Sunday. Today though, I want to have some fun with some former players that nobody is talking about on this Sunday. The guys who for a period of time were a big name in the NFL, but will never be remembered as a Dallas Cowboy.
Mark Sanchez 2016
Mark Sanchez when he came into the league was a very big deal. Took the Jets to back to back AFC Championship games in his first two seasons. The Jets only had three AFC championship appearances in their entire franchise history before that! The future was looking bright in New York, but things went into a decline fast for the QB starting in the 2011 season. The Cowboys signed him in 2016 since they literally had no quarterbacks behind Dak Prescott in his rookie year. Kellen Moore got hurt in training camp, Tony Romo went out in week three of the preseason. On September 3rd, Mark Sanchez was released by the Broncos and came in as the backup until Romo was back from injury. Sanchez literally played one game as a Cowboy. Week 17 against the Eagles, it was a nothing game as the Cowboys had already secured the NFC East at the time.
Zach Thomas 2008
Looking back at it, you thought this was going to be a great signing. Bringing in a veteran to help out Bradie James, DeMarcus Ware, and Greg Ellis in a 3-4 defense? Zach Thomas was a great linebacker for the Miami Dolphins, but he just wasn't the same player in Dallas. He had an average season, wasn't terrible, but no one will remember him as a Dallas Cowboy.
Peerless Price 2005
Where are my Madden 2004 fans at? If you grew up playing that game, you probably remember how unstoppable Michael Vick was in that game. You definitely threw some passes to this guy if you used the Falcons that year. Cowboys quarterback Drew Bledsoe lobbied the team to get Peerless Price since the two spent some time in Buffalo together and had great success. Sadly, that success did not happen in Dallas. Price didn't even finish the 2005 season, he was cut in December after he only had six catches for the year. He literally has one highlight for the team. He had a 58 yard reception, he only caught 96 yards the whole year. So more than half came on that one play.
Danny Amendola 2008
This is one the Cowboys messed up one because this kid went on to have a great career with the Rams and Patriots. In 2008, the Cowboys signed him as an unrestricted free agent. He played in some preseason games, but never saw regular season action. Was cut by the team before the season started and signed to the practice squad. He never got off the practice squad and after the season was cut by the team. This was a loaded year for the Cowboys at the receiving core, but still sucks we let a talented player go when we had him for nothing.
Eddie George 2004
Man I remember being legit excited for this back in the day. Eddie George in Tennessee was known as Mr. Consistent his last two years as a Titan. Get you 1,000 yards and not fumble the ball. He had an awful 2001 season where he fumbled EIGHT times. After that, he secured the ball better and just churned out yards. Sadly in Dallas it was not like this. Three fumbles, two of them in one game to the Eagles and just over 400 yards rushing. This would be Eddie's final season in the NFL. Great career as a Titan, won't be remembered as a Cowboy.
Randall Cunningham 2000
A very underrated quarterback throughout the 90's was Randall Cunningham. He will obviously be remembered for his time as an Eagle or a Viking. However, did you know he spent one season in Dallas? This would be Aikman's final year and Cunningham was his backup. Aikman suffered a concussion early in the season and Cunningham came in for a few games for him. Cunningham went 1-2 as a Cowboy. After this season, begins the dark times for Dallas Cowboys quarterbacks.
Ryan Leaf 2001
When people think of NFL busts, the first name that comes to mind is Ryan Leaf for a lot of folks. The year he came out of college was the debate at the NFL draft, who is going to go first overall. Peyton Manning or Ryan Leaf? Colts took Peyton and Leaf went third overall to San Diego. Many people thought Leaf was the better pick and those people in hindsight now look like idiots. Leaf had a terrible NFL career. Threw 15 interceptions in 1998, got hurt in 1999, and threw 18 interceptions in 2000. After that, Dallas signed him to be backup for their newly signed draft pick Quincy Carter. Leaf would play in four games for Dallas after Carter suffered an injury during the season. Ryan Leaf will always be remembered as maybe the biggest bust in NFL history, but I don't think a lot of folks remember him with a star on the helmet.
Randall Cobb 2019
When I was making this list going through names, this is one those that made me go. Oh yeah, I forgot we signed this guy for one year. He started his career as a Packer and ended his career as a Packer, which is why I probably forgot him on the Cowboys. Cobb did pretty good for Dallas in his one season on the team. Only three touchdowns, but did have over 800 yards receiving.
Gerald McCoy 2020
This one is so obscure, I don't even have a photo of him as a Dallas Cowboy. Gerald McCoy was a very good defensive tackle for the Tampa Bay Buccaneers. He went to six straight pro bowls from 2011 to 2017. The Cowboys signed him to a three year deal in March of 2020, so what happened? McCoy injured his quadriceps in practice and he had an injury clause in his contract. So the Cowboys were able to release him, which is why you never saw him in a Cowboys uniform. He would play one more season as a Raider in 2021.
Bernie Kosar 1993
When you think of Bernie Kosar, you think of The University of Miami and the Cleveland Browns. However, he was able to get a Super Bowl ring with Dallas back in 1993. He actually played a key role in the playoffs that year. Aikman got knocked out in the NFC Championship game. Kosar had one job, don't do anything stupid. He did what he needed to as a backup. Completing five of nine pass attempts for 83 yards and one touchdown. He actually took the final snap in the Super Bowl to close out the game against the Bills with a kneel down.
History of the Dallas Cowboys Thanksgiving Performers
From 1997 to now, we go through every performer the Dallas Cowboys have had since 1997.
2022 Dallas Cowboys Cheeleaders for the Bye Week
No Dallas Cowboys football this weekend. So let's take a look back at some of 2022 America's Sweethearts as we head into the bye week.