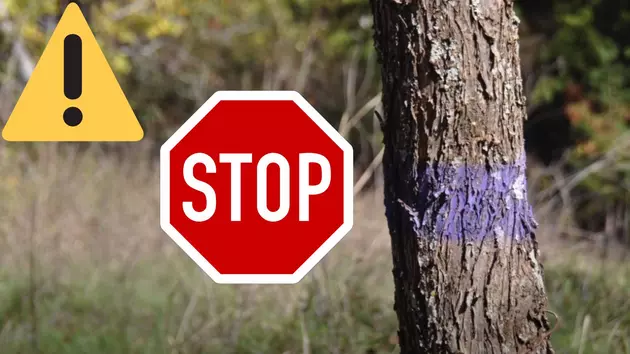 Ignoring Purple Paint on Trees and Fence Posts In Texas Could Land You In Jail
YouTube/East Texas Land
When out hunting, fishing, walking around, or just exploring there are some things that you need to be aware of when stepping foot on land that isn't yours. And in rural West Texas, you can often step foot on land that isn't yours and with hunting season around the corner, stepping foot where you shouldn't can get you in real trouble.
This is what purple paint on a tree or fence post means.
Have you ever seen a tree or a part of a fence post painted with purple paint? Well, it's not a bad paint job, it is actually a warning sign. It's the Purple Paint Law that was passed in Texas in 1997, and the warning sign in paint has legal standing. So what does it mean? The purple paint is a warning to all, "No Trespassing".
In Texas, and several other states, a landowner can simply mark trees and fence posts with purple paint as a warning to others who are hunting, hiking, geocaching, or just find  themselves in the wrong spot that they are trespassing and need to leave. According to the Texas Parks and Wildlife Department, ignoring the purple paint could land you in jail since it acts as a "Notice" of trespassing.
"Notice" means: an oral or written communication by the owner or someone with apparent authority to act for the owner; or fencing or other enclosure obviously designed to exclude intruders or to contain livestock; or a sign or signs posted on the property reasonably likely to come to the attention of intruders, indicating that entry is forbidden; or the placement of identifying purple paint marks on trees or posts on the property. If purple paint is used, then the purple paint must be vertical lines of not less than eight inches in length and not less than one inch in width; placed so that the bottom of the mark is not less than three feet from the ground or more than five feet from the ground; and placed at locations that are readily visible to any person approaching the property and no more than: 100 feet apart on forest land or 1,000 feet apart on land other than forest land.
What Is The Punishment For Ignoring Purple Paint on Trees or Fence Posts In Texas?
Ignoring purple paint on land that isn't yours could result in a Class B Misdemeanor which could lead to 180 days in jail or up to a $2,000 fine. Penalties could actually increase if you are caught with a deadly weapon. Ignoring the paint could also result in injury as other people may be hunting or simply protecting their own land.
Texas State Fair Food Finalists for 2023
These are the judges favorites for new foods at the Texas State Fair
This Is The Most Expensive House For Sale In Texas Right Now
The most expensive house for sale in Texas right now is listed in Houston. And the home is absolutely amazing. In fact, it is more like a modern enchanting castle. It's been called The Lodge at Hunters Creek. The 22,000 sq. ft. home sits on 9 acres of land and has 8 bedrooms and 12 baths. It comes with a guard house, a two bedroom guest lodge, two pools, a flex court, outdoor kitchen, glass elevator, and so much more. Check out the pictures below. It's home you have to see. And it could be yours for $65 million dollars. For more information on the listing, contact Billy Dolan at 214-369-6000
This Is The Cheapest House For Sale In Texas Right Now
Who says you have to pay $250k plus for a house? You could spend a lot less, but spend more time renovating a home that is older and not in great shape. Which brings us to this home located in Clarksville, Texas. According to Zillow, it is the cheapest house for sale in Texas. But it's not ready for anyone to move in. It's going to need renovating... at least. But hey, right now this is the cheapest home for sale in Texas. For more information contact Edward Mcclintick at Joseph Walter Realty, LLC at 248-294-7850.