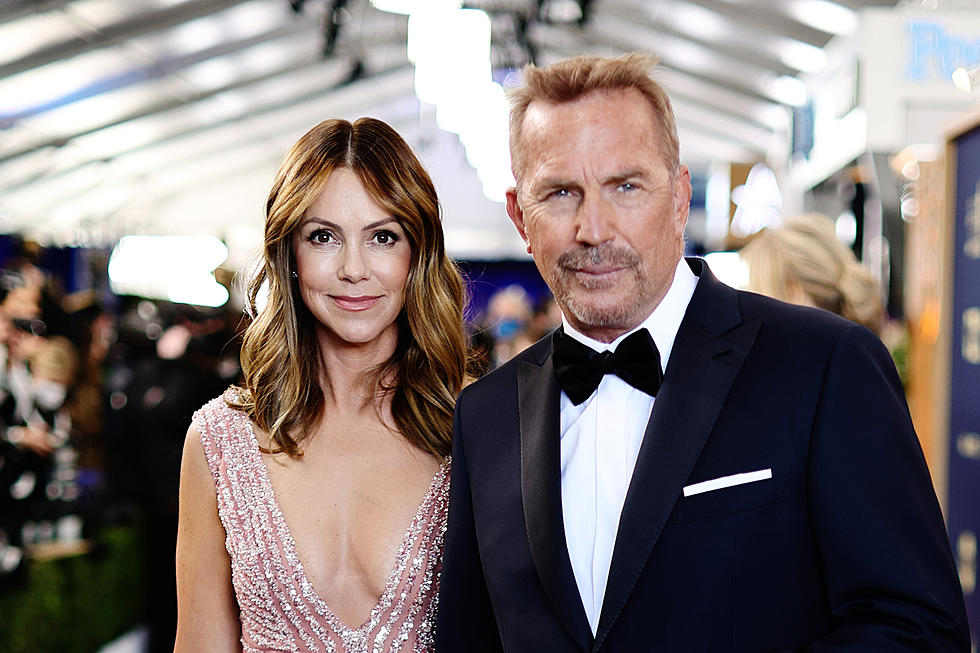 Kevin Costner Says Estranged Wife's Boyfriend Is Giving Her Money as She Wages 'Relentless Jihad' Against Him
Dimitrios Kambouris, Getty Images
Kevin Costner is not holding anything back in his latest court filing against his estranged wife. In new court documents, the Oscar-winning actor and director says his soon-to-be-ex-wife's alleged boyfriend has been giving her significant amounts of money while she engaged in an "endless jihad" against him in the public eye.
TMZ was the first to report new documents in Costner's ongoing divorce with his wife of 18 years, Christine Baumgartner. Costner alleges that Baumgartner has access to more money than she claims as she argues with the actor over child support for their three children, since her "her boyfriend recently gave her" $20,000.
Costner also alleges that Baumgartner has turned so unreasonable during their divorce proceedings that she has represented him as being cheap, when in fact, he has paid out more than a million dollars since she filed for divorce in early May of 2023, citing irreconcilable differences. He claims the amount he has paid more than satisfies the pre-marital agreement they signed in 2004 before they married, which she has been challenging in court in order to seek more child support.
Costner's new filing does not identify the man in question, but sources tell TMZ that he is Josh Connor, a close friend of Costner's who was living in an extra house on his property prior to the divorce filing and was rumored to have grown too close to Baumgartner. The two were recently photographed together in Hawaii. Sources close to both deny a romantic relationship to TMZ.
Costner reiterates in the new filing that Baumgartner has padded her expenses by listing $105,000 that she allegedly took from him to pay her lawyers, as well as padding her child support claim by including hundreds of thousands of dollars for plastic surgery, private trainers and "unallocated credit card expenses" which paid for her needs, solely, and did not benefit their children. As part of that, he alleges that her cosmetic surgery bills totaled $188,500 in a year.
Baumgartner initially asked for $248,000 per month in child support, and Costner estimates her actual needs are about $63,000 a month. A judge ordered Costner to pay Baumgartner $129,000 per month in child support in July while the final amount is being decided.
Baumgartner filed for divorce on May 1. Costner filed court documents in mid-June accusing her of failing to vacate their home — which the actor owned prior to their marriage — within a month, which he said was a violation of their premarital agreement. Baumgartner filed a response claiming that Costner had limited standing to demand she leave, since the house is the only home their three children have ever known.
Baumgartner moved out of the house in late July and into another, smaller house on the same piece of property.
In the new filing, Costner also alleges that Baumgartner "has no plans to seek employment or engage in any income-generating activity" despite being capable of getting a job, and accuses her of asking for enough money in child support that she does not have to work.
Costner's divorce comes at the same time as his reported departure from Yellowstone. His starring character, John Dutton, will reportedly die during the second half of Season 5, and the show will come to an end after those final episodes air.
PICTURES: See Inside Kevin Costner's Spectacular Colorado Ranch
Yellowstone star Kevin Costner lives the ranch life when he's off the set of the hit show, too. The Oscar-winning actor owns a 160-acre ranch in Aspen, Colo., that's a spectacular getaway, complete with a main residence, a lake house and a river house.
The luxury retreat also features a baseball field, a sledding hill, an ice rink, multiple hot tubs and views of the Continental Divide. The ranch property comfortably sleeps 27 people, and it's currently available to rent for 36,000 a night.
22 'Yellowstone' Facts You Probably Didn't Know
How big of a fan of
Yellowstone
are you? These 22 facts about the Paramount Network show are sure to stump even the most dedicated viewers. They're almost all about the cast members and their real-life passions and roles. John's kids? Beth's accent? Rainwater's guitar playing? Tate's spoilers? It's all part of this list of 22 Facts You Probably Didn't Know About Yellowstone.