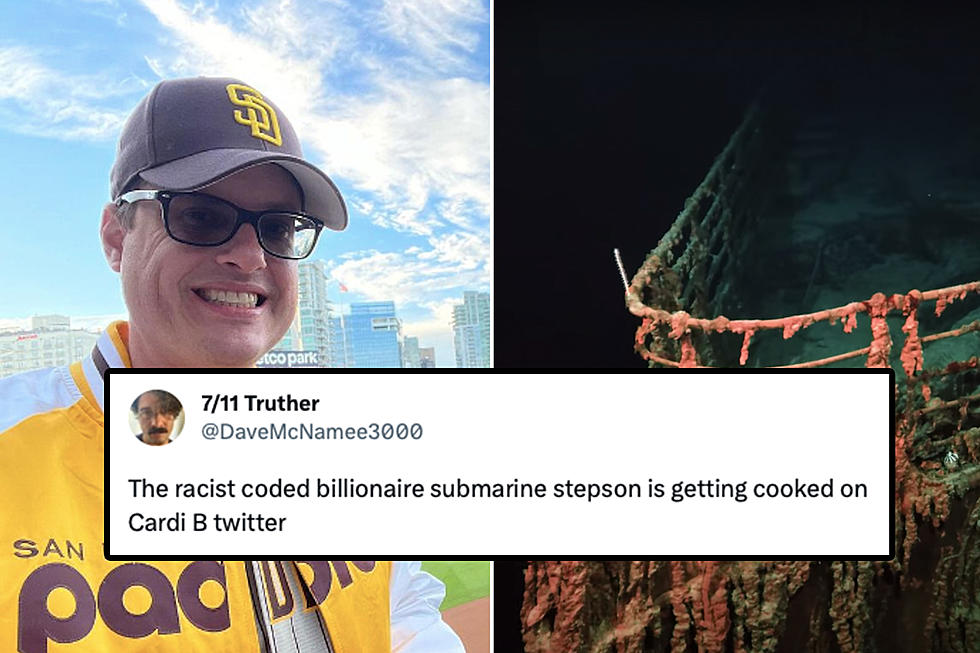 Stepson of Missing Titanic Submarine Passenger Deletes Twitter Following Backlash, Allegations
Instagram - @audioguy182 / YouTube - OceanGate Expeditions / Twitter - @davemcnamee3000
Brian Szasz, the stepson of one of the passengers aboard the missing OceanGate Titanic submarine, has deleted his Twitter account following a ton of backlash he's received on social media over the last few days, and some allegations that have been made against him.
Szasz' stepfather, billionaire Hamish Harding, is among the five individuals on board the OceanGate Expeditions vessel named the Titan, which was set to descend to the location of the Titanic wreckage this past Sunday (June 18). The shipwreck is located 2.4 miles beneath the surface in the North Atlantic Ocean [via Time], and the submersible lost contact roughly an hour and 45 minutes into the expedition.
The U.S. and Canada have since deployed various underwater vessels and aircrafts in attempt to locate the missing submarine. The Titan had 96 hours of oxygen on board in case of an emergency, and CNN reports that officials fear the oxygen will run out today (June 22), if it hasn't already. It's unclear whether the passengers were even alive this whole time.
But aside from the missing Titan and its passengers, which has generated worldwide controversy as it is, 37-year-old Szasz appears to be just as big of a topic of discussion on the internet. On Monday (June 19), he attended a Blink-182 concert in San Diego, and shared a post acknowledging that "it might be distasteful" given his family's current circumstances, but that they're his favorite band and he finds comfort in their music during tough times.
He's since received a ton of backlash on the internet for appearing unfazed by his stepfather's disappearance, and has since deleted his Twitter account. However, people have posted screenshots of some of his recent tweets, including one directed at Blink-182's Tom DeLonge that read, "My stepdad is missing in the sub at the Titanic site. I'm here at the San Diego show for support thanks."
In another post, Szasz quote tweeted a photo of an OnlyFans model, whose caption read, "Can I sit on u." In Szasz's tweet, he wrote, "Yes please!" followed by another one that read, "Please keep my family in your prayers."
Another tweet Szasz wrote on June 21 said, "Quit trippin in my hood I can say N---a without the er of course I'm down like that. On the set!"
He has even been scrutinized for his behavior online by rapper Cardi B.
"One of the billionaires, their stepson is at a Blink-182 concert, and people is like, 'Well what is he supposed to do, be sad at the house? Is he supposed to go look for himself? Yes," she said during a video on her Instagram story, according to People. "You supposed to be at the house, sad. You supposed to be crying for me. You supposed to be right next to the phone, waiting to hear any updates about me. You supposed to be consoling your mom and shit."
"Cardi B trying to get clout off me and my families [sic] suffering," Szasz fired back on his Twitter, as noted by The Los Angeles Times. "I went to a Blink-182 concert for coping rather than sitting at home and watching the news. Shame on you Cardi get some class!"
"Cardi B We know all your latest releases are trash but is your career this desperate for attention now??" he wrote in another tweet afterward.
"The point was the whole world is praying for these people in the submarine and this man son is online shaking dicks for girls off OnlyFans and going to Blink-182 concerts," Cardi B fired back. "You was looking for clout all along, nobody knew who you were until you said that was ya stepdad!!! This is why people hate you spoiled brat billionaires yall soo desensitize."
READ MORE: Stepson of Missing Titanic Submarine Passenger Goes to Blink-182 Show During Rescue
The Los Angeles Times further added that Szasz was arrested in June of 2021 after he posted a string of threatening tweets toward women and artists in the EDM community, particularly Alison Wonderland, who was set to perform with DJ Illenium in Las Vegas the following month. Szasz was detained at the Vista Detention Facility for online stalking charges, and the next year, he filed a lawsuit against the jail for insufficient medical care to treat his Type 1 diabetes. The report also mentioned that he was diagnosed with autism spectrum disorder.
Since deleting his Twitter, Szasz has posted a video on his Instagram detailing the "nightmare" he's been dealing with.
"Here are the facts, okay? Believe it or not, I have about $100 to my name. I can't go out to the ocean — I have a legal situation keeping me here as well. I can't get on a flight, I don't have a passport. I was sitting here yesterday, watching the news for two days straight. I go to a Blink-182 show because I have a ticket, it wasn't like I was having super fun," he said.
"It wasn't like I was celebrating having a great time. I was kind of just listening to some of my all-time favorite songs and nodding my head, and just trying to get off the phone for maybe like, two hours or so, and come right back into the drama," he continued. "The submarine is stuck at the damn Titanic. There's nothing I can do for the situation at all. So that's the truth."
Szasz then addressed what Cardi B said to him, adding that the rapper has "no idea what's going on" and that she "needs clout" from others' suffering.
"Not really giving a fuck that my stepdad's probably, 99 percent chance he's dead. That doesn't matter, [she] doesn't care how we feel, just trying to like fucking make gains. People trolling, getting hate mail and all these things, and it's just fucked up," he said. "Cardi B — fucking grow up, get some class."
See his videos in tweets below, and various other posts about the news below.
10 of the Most Pretentious Things Rock + Metal Artists Have Said
See why these celebrated musicians think so highly of themselves!