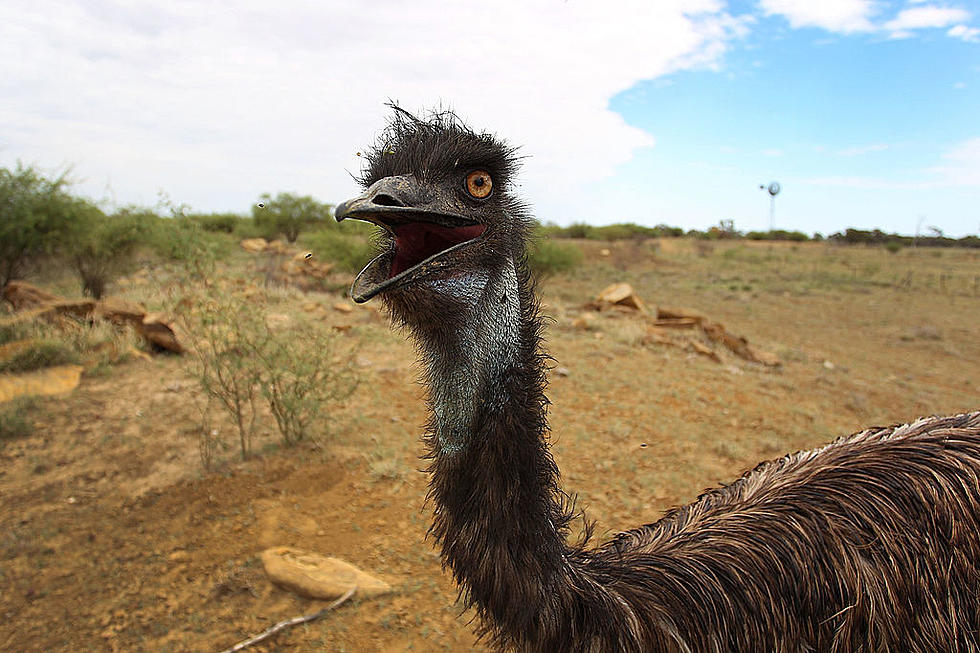 Did a Pack of Emus Rampage Wichita Falls and the Cops Had to Put Them Down?
Getty Images
What in the hell kind of story did I find today?
Another Friday where I couldn't find anything to talk about. So I went to my old reliable, Dallas Cowboys training camp in Wichita Falls. I was trying to find something new to discuss and I stumbled on something that had nothing to do with the Cowboys. Back in July of 1998, Texas Monthly did a piece on why the Cowboys should not do training camp in Wichita Falls.
In that story, author Skip Hollandsworth had this comment:
And hardly a year goes by without something completely bizarre happening up there. Most recently, a flock of emus, let loose by a disgruntled farmer who couldn't sell them, went on a rampage through the east side of town, tying up traffic, chasing children, and confounding local animal-control officers, who finally got so frustrated that they pulled out .22 rifles and started shooting.
What in the hell? Some farmer went crazy and just let his emus out? Which lead to an emu massacre by the cops? How have I not heard this story?! I quickly went to work this afternoon trying to find ANYTHING on this. I can't find one damn site talking about this, only Skip.
The only thing that comes close is an old story from The Associated Press talking about an emu craze in Texas. A man by the name of H. Conray Chase was a big emu farmer in Wichita Falls apparently. Looks like in 1994, he filed for bankruptcy and fled to Hawaii leaving some investors in the dust. Looks like some criminal fraud charges were filed on Mr. Chase back in the day after he screwed over these investors.
So did Mr. Chase let the emus out? I literally have no idea. I can't find any story on emus in Wichita Falls besides this one. I need to know about the 1990's Emu Massacre in Wichita Falls. If anyone remembers this or has any idea how I can get some info, it would be appreciated.
Dallas Cowboys Photos from Wichita Falls Training Camp
Wichita Falls was once the official training camp home for the Dallas Cowboys for three seasons. Let's take a look back at this time in Dallas Cowboys history.
Photo descriptions provided by Getty Images.
Retro Advertisements for Wichita Falls Drive In
Wichita Falls used to have six drive in movie theaters. We have stepped back in time to show off some of the cool things that Wichita Falls used to have back in the day.