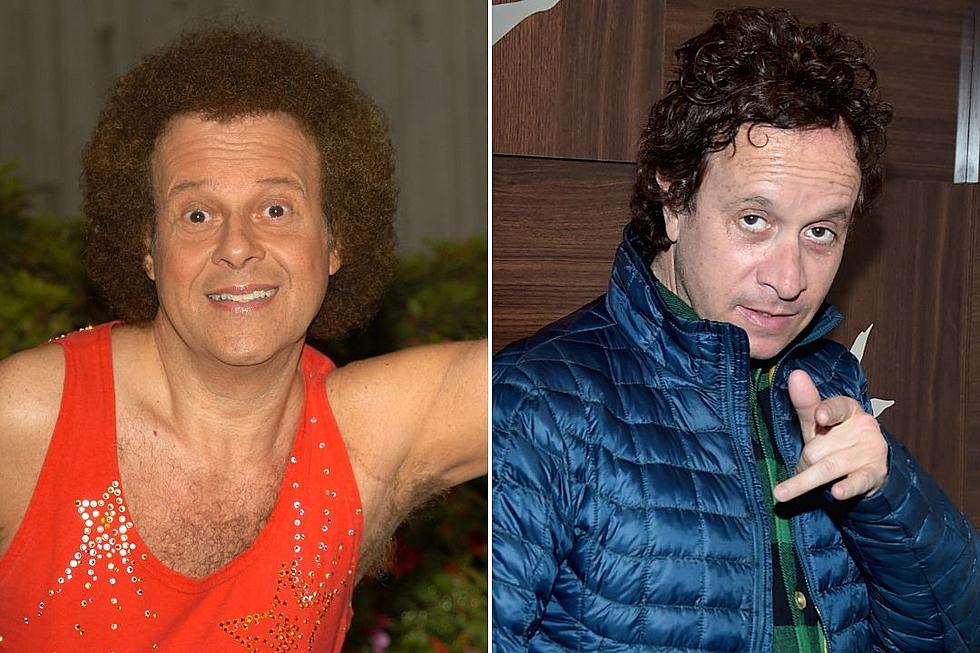 Richard Simmons Really Doesn't Want Pauly Shore to Play Him in Biopic
Stephen Shugerman / Michael Loccisano, Getty Images
Pauly Shore is desperate to portray fitness icon Richard Simmons in a biopic.
On Monday (Sept. 25), the Encino Man star revealed he has been in touch with Simmons about potentially playing him in a future film.
"Since many people always told me I look like Richard Simmons, I started this series on all my social media platforms called Sweatin with the Wiez honoring Richard. Then someone made their own meme about me playing Richard in a biopic. The post I did, it was me responding to all that love from you guys," Shore wrote on Facebook.
Unfortunately, Simmons wasn't on board with Shore's idea.
"So, I reached out to Richard… and his representatives said that Richard loves me and my mom (he has known us both for decades), but Richard is politely passing. He said Richard, at this time, wants to remain private, which we all need to respect," the comedian continued.
READ MORE: Halsey Wants Millie Bobby Brown to Play Her in a Biopic
"Richard, we all miss you, love you very much and want nothing but the best for you. You are in all of our hearts. You can always reach out to me if you change your mind. I'm just a phone call away. And since today is Yom Kippur, I'd love to stop by, bring you some yummy warm matzo ball soup and sit at the head of your bed and gaze into your eyes," Shore continued, joking.
Before signing off, the Bio-Dome actor explained his vision for a future Richard Simmons film, pressing the subject once more.
"Why don't we hit up Dexter Fletcher, the dude who did an AMAZING job directing Rocketman, the Elton John story? Dexter, we can do a test tape to present to Richard and his reps for his blessing? What do you think, you guys? I mean, the movie poster has already been made!" Shore wrote.
See Pauly Shore's Facebook post, below:
Shore's Facebook plea comes just days after he initially tweeted about his idea to play Simmons in a film adaptation of the latter star's life and career.
"I've noticed the reactions to me playing #RichardSimmons in a biopic. I heard he's living in Big Bear. We've been playing phone tag (yes, he has a phone). I'm trying to make it happen, you guys," Shore tweeted on Sept. 21.
Many users were ecstatic at the thought of Shore playing the 75-year-old fitness star.
"You would CRUSH this role!" one Twitter user replied.
"This would be epic, hope you're able to do it Pauly!" another responded.
"Two legends joining forces... That Oscar is yours," someone else replied.
Simmons burst onto the scene as an enthusiastic fitness instructor in the '80s and '90s, making appearances on both daytime and late-night talk shows.
At the height of his career, Simmons released a number of cook books, infomercials and best-selling workout videos.
Celebrities Who Look Alike
It's said that everybody has a doppelganger (a.k.a. look-alike) somewhere out in the world. And this yields true for celebrities, too, apparently. As wild as it is to think there are people out there who look like some of our favorite celebs, it's even more mind-blowing that some of Hollywood's shining stars actually do look similar to one another. Don't believe us? Check out these 25 pairs of Hollywood look-alikes.