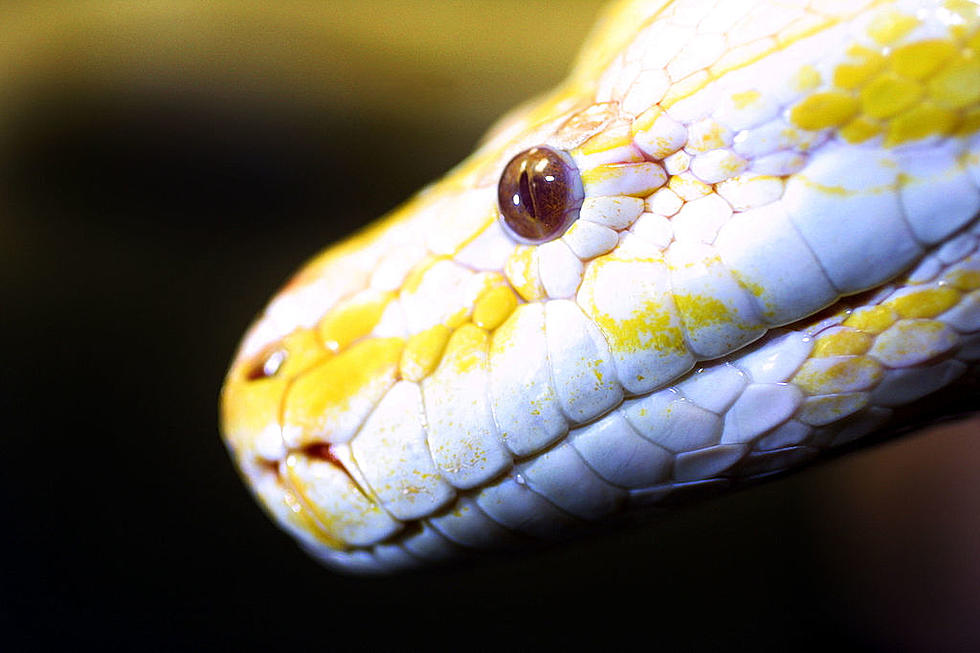 13-Foot Python Terrorizing Oklahoma Trailer Park
Getty Images
Which one of you imported a python to Oklahoma?!
My True Nightmare Right Here
Well folks, my number one fear right here, snakes.

Just like my good friend Indiana Jones, I don't mess with snakes. The thing I hate most about snakes? You pieces of s*** that import snakes that are not native to our area. Can I possibly run into a rattlesnake living here? Yes...and I accept that. Should I ever have to fear a python? Absolutely not...well thanks to some jerk in Oklahoma I now do.
Burntwood Mobile Home Park in Oklahoma City
Well it looks like this trailer park has been keeping quiet about a python that has been on the loose for quite awhile now. According to reports, it has been roaming this trailer park for FIVE MONTHS. The python has supposedly been surviving on rats and opossums, which I don't think anybody really has complaints about. However, the python has also started eating neighborhood cats.
Check Out the 13-Foot Python Below
Now that the word is out about the python, the trailer park is finally hiring someone to take care of it. Me personally, I would burn the trailer park to the ground and start new. A letter was sent out to residents this week on the situation according to Fox 25 in Oklahoma City.
We have engaged additional wildlife control groups that will be coming into the community this week to help with the capture of the snake. We are working with two new experts to help resolve the issue.
Please note, we will have our expert tracking the snake utilizing two dogs starting this evening October 17th. The expert and his two Labrador Retrievers (one will be on leash and one off), will be coming through the community late evening and accompanied by security. Please do not be alarmed.
In addition, we have another wildlife expert who will be setting traps toward the end of this week under three resident homes. The residents have approved this, and we hope that this will isolate the snake if not found after the first experts attempts with the dogs.
Again, we thank the entire Burntwood community for your patience and cooperation and hope that we can get a solution this week. If you have any questions, please reach out to the Community Office. Thank you.
In conclusion, f*** pythons and you people that bring them here.
Plant Some Of These In Your Garden to Keep Mosquitoes Away
As we previously told you, mosquitoes are the most
dangerous creatures on earth
. If you want to keep them away from you're yard, these plants can help!
Gallery Credit: Michelle Heart
LOOK: Here are the states where you are most likely to hit an animal
Hitting an animal while driving is a frightening experience, and this list ranks all 50 states in order of the likelihood of such incidents happening, in addition to providing tips on how to avoid them.
Gallery Credit: Dom DiFurio & Jacob Osborn