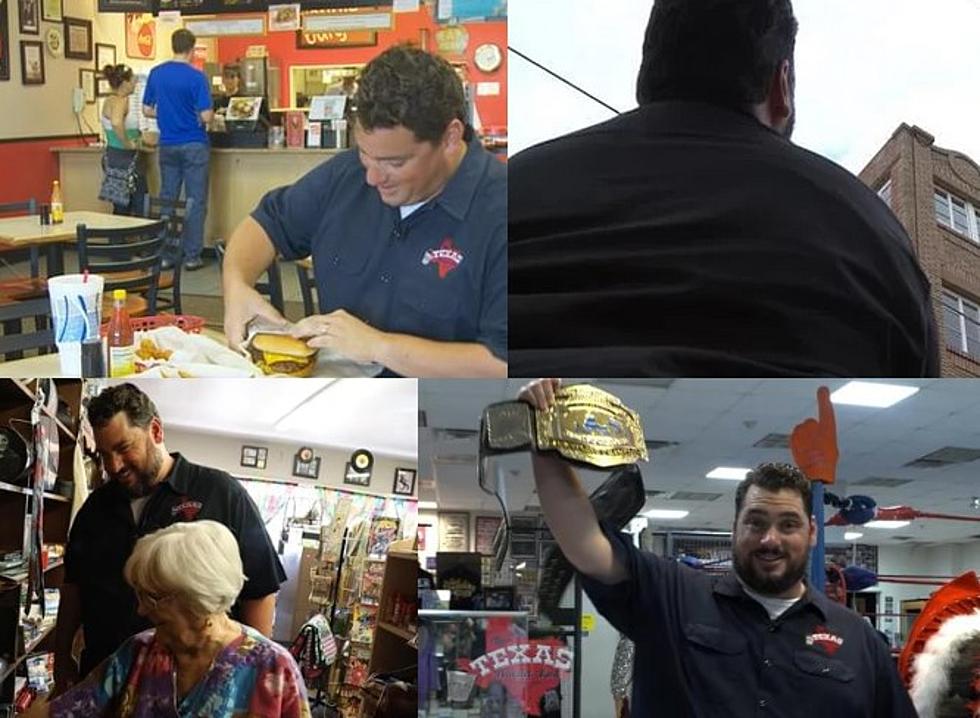 Every Time (So Far) That The Texas Bucket List Has Come to Wichita Falls
YouTube
If you have never seen the show, The Texas Bucket List, it's a pretty simple concept. Showing off unique places in Texas and throughout the years they have stopped in Wichita Falls several times.
Ronnie Burgers
I am just going to in order of appearance in the show. On this episode of the show, Wichita Falls got burger of the week. Ronnie's Burgers Beanie Burger took the spot this week. I should not have started this post while hungry.
Texas Ranch Roundup
With the exception of the Hotter'N Hell Hundred (which by the way Texas Bucket List, you need an episode on that) the Texas Ranch Roundup is one of the biggest events in Wichita Falls. I've been twice in my time here in Wichita Falls and it's crazy how many people go to coliseum to check it out.
Willie's Place
That's right Wichita Falls got burger of the week again. Honestly, I can think of another five places in Wichita Falls that deserve burger of the week. Back in 2016, Willie's Place and their grilled cheese cheeseburger took the spot. By the way Texas Bucket List, come back and try the psycho burger...if you dare.
BONUS: Me Trying the Willie's Place Challenge
World's Littlest Skyscraper
What's our city known for? Man made water falls and one of the funniest scams in American history. The World's Littlest Skyscraper is something that you have to go check out on a visit to Wichita Falls. Mainly for the story of it. Back in the day, we used to throw things off the top floor and watch them explode.
BONUS: Throwing Things Off the World's Littlest Skyscraper
Professional Wrestling Hall of Fame
Sadly, something that is no longer open in Wichita Falls is the Professional Wrestling Hall of Fame which used to be in Big Blue downtown. As someone who was obsessed with wrestling during the attitude era. It was pretty crazy to see this in Wichita Falls. I was actually able to give you a full tour if you missed it back in the day.
BONUS: Full Tour of Pro Wrestling Hall of Fame
Gidget's Sandwich Shack
A true hidden gem in Wichita Falls that doesn't get the love it deserves. Me being a fat kid at heart, I always get the Monte Cristo. Can't really go wrong with anything on the Gidget's menu though.
Elvis Always
A store you would expect to see driving around in Tennessee, but nope an Elvis only collectible store is sitting right here in downtown Wichita Falls. If you love Elvis, this is a MUST do in Wichita Falls for some nostalgia.
Progress and Provisions
Finally, the most recent trip to Wichita Falls for the Texas Bucket List was showing off their Korean chicken sandwich. I had never had this thing until I saw it on the show. Pretty damn good if you ask me, so thanks for the recommendation Texas Bucket List. Progress and Provisions also do the food at the Wichita Falls Brewery, which is where I typically eat their food.
We have had some pretty cool stuff shown off to the Texas audience about Wichita Falls, but where should we send the Texas Bucket List crew next in our city? Let me know in the comments.
This Wichita Falls Home Was Once a Recording Studio
Back in the day, Wichita Falls was home to Nesman Studio. Who had some very famous clintel come in throughout the years, including Buddy Holly. Today though, the recording studio is gone and it's just a house at 3108 York Avenue. Check it out below.
Yelp's Top 10 Wichita Falls Barbecue Joints in 2022
You don't have to go far to find great barbecue here in Wichita Falls. Here are the Top 10 places to grab some barbecue, according to Yelp.