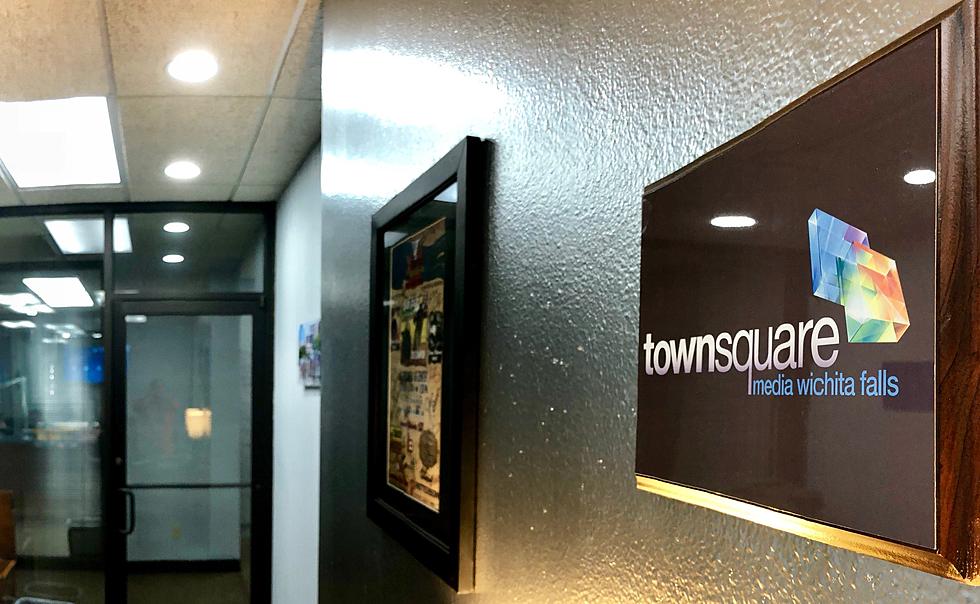 Townsquare Media in Wichita Falls is Hiring!
Townsquare Media Wichita Falls Studios
Townsquare Media Group in Wichita Falls is hiring!
Townsquare Media includes well-known brands like 92.9 NIN, 106.3 The Buzz, 102.3 The Bull, and News Talk 1290.
Are you passionate about people, learning and excelling in the workplace? Have a sense of what it takes to win? If you want to grow professionally, can move at the speed of light and still have fun - Well then we want to talk to you!
Townsquare Media combines innovative technology with our industry leading team of experts in search engine optimization (SEO), design, social media, web publishing, and reputation management to create a total web presence for small businesses online. 100% optimized for mobile as well.
At Townsquare Interactive, it's our goal to create a fun, hard-working, creative environment that is both challenging and rewarding. We are dedicated to staying at the forefront of online marketing services and internet technology and seek passionate, results-driven individuals to join our team. We love what we do and are inspired to outperform every day.
Please read through the job description below and email your resume to troy.clingerman@townsquaremedia.com to set up an interview if you are interested in working with us here at Townsquare Media in Wichita Falls.
Media and Digital Marketing Executive
Responsibilities
Prospect for qualified local and regional businesses; conduct thorough Customer Needs Analysis (C N A); present and close appropriate marketing solution programs. These programs may include any of Townsquare Media's many assets for clients: Broadcast and Online radio, digital products such as display, streaming, loyalty programs, e-commerce, audience extension and digital marketing services.
Leverage our live event platform through sponsorship and sales programs to new and existing clients.
Create new relationships with local and regional businesses in our area.
Work with local and corporate marketing teams to develop campaign support materials.
Responsible to accurately project revenues, meet and exceed monthly budgets for all product lines and overachieve annual budgets.
Enter new customer data and other sales contract details for station clients.
Follow accountabilities set forth by your Sales Manager to help guide you to success achieving monthly sales quotas consistently.
Provide insight and value to executive management to shape the future of our organization.
Qualifications
Goal oriented, a strong work ethic and a strong desire to learn.
Previous sales experience. A history of success with customers and a proven ability to develop and grow revenue.
Knowledge and experience with digital media.
The successful candidate will be smart, curious, tenacious, entrepreneurial, independent, passionate, and enthusiastic, and work with urgency to meet deadlines.
Accomplished at prospecting and qualifying.
Ability to engage clients quickly and develop rapport, with excellent communication and problem-solving skills.
Associates/Bachelor's business/marketing-related degree or equivalent experience.
Valid driver's license, auto insurance, and vehicle required.
Benefits
Weekly, Monthly, and Quarterly contests
3 weeks of Vacation Time
Company provided Laptop
Medical, Dental, and Vision Insurance
401(k) Retirement Plan
High Energy Work Environment
Opportunity for Upward Mobility
The growth opportunity is great. TSM is a fast-growing public company offering unlimited earning potential to our managers and salespeople.
Outside Sales Representative - Townsquare Media 
North Texas and Oklahoma
Responsibilities:
Follow Townsquare Media sales best practices.

Outside Sales calling on small to medium sized businesses to show the value of Townsquare Interactive online advertising products. (SEO, Social Media, Reputation Management)

Develop and manage a pipeline of potential opportunities effectively.

Research industry trends and competitive analysis.

Work with client services to ensure customer success and retention.

Achieve monthly sales quotas consistently

WIN!
Qualifications:
A strong will to win
Documented success in sales.
BA/BS business or marketing-related degree or equivalent experience.
SEO, website sales, social media, daily deal and/or local advertising experience highly desired but not required.
1-5 yrs experience in outside B2B sales/advertising background
Relevant search, mobile, social, daily deal and digital advertising / local business knowledge highly desired
Comfortable being an individual contributor
Possess the highest of moral qualities
Benefits:
3 weeks' vacation! Company provided laptop, benefits, 401k, etc.
Base salary, uncapped commission structure, and car allowance
Townsquare Interactive rewards success and our growth plan provides a SIGNIFICANT opportunity for upward advancement.
An opportunity to work with the best of the best. Our leadership's track record is second to none!!
New hire training and continuous sales training provided by experienced sales leaders.
Regional Digital Sales Executive for North Texas and Oklahoma area
Core Responsibilities
Build out new revenue channels at Regional and Local Key Account levels
Create, implement & execute on a Sales Territory/Account Plan to drive direct and agency sales efforts, with a focus on Advanced Audience Targeting and Extended Reach Digital solutions
Work independently from, and long-side, Local cross-platform Sellers in Abilene, Texas, Wichita Falls, Texas, and Lawton, Oklahoma
Perform extensive needs assessments with prospects (acquisition), and existing customers (cross-sell) to determine how TSQ Solutions offer the best results for your customers
Deliver compelling presentations that highlight the TSQ competitive advantages
Develop needs-based solution proposals
Identify, organize and focus internal resources (pre-sales and post sales) that are required to affect close of new sales opportunities
Meet and Exceed Revenue Targets
Thrive in a business development role which includes prospecting within a defined geography as well as expanding, thru cross-sell, and existing client relationships
Be successful with cold calling, prospecting and scheduling your own appointments as this is a front line seller role focused on Regional Agencies and Direct Clients
Research opportunities thoroughly and proactively, identifying an advertiser's needs while working with Client Services to propose efficient solutions
Expert level understanding of exchange platform and advanced audience targeting capabilities and their value proposition for customers to drive business unit growth and revenue
Establish strong relationships with advertising agencies and client-direct personnel, including all decision-makers and key influencers from junior media planners to top management
Act as a digital media mentor and resource to our client base and general sales staff
Become a positive and influential presence in the market
Qualifications
Minimum 5 years sales experience as an individual contributor in a sales (hunter) role
Digital Sales background (i.e. mobile, video, display, social, email and paid search)
Proven experience selling Advanced Audience Targeting, Extended Reach, and Programmatic offerings
Consultative/Solutions selling experience vs. a single Product selling background
Proven track record in meeting/exceeding monthly, quarterly and annual revenue goals
Consistent performer and responder to daily, weekly and monthly Sales KPI's
Demonstrable experience at new market and revenue development
Previous Radio, Events and Sponsorship sales experience a huge PLUS
Deep contacts with Regional Agencies and Direct Clients with focus on Healthcare Services, Retail, Travel/Tourism, Automotive, Energy and Government
Independent, Entrepreneurial, comfortable in a fast pace, early stage environment
Detail-oriented, someone who rolls up their sleeves and gets the job done
Intellectual curiosity to surface insights & implications and use this knowledge to think creatively about how to advance TSQ Regional offerings
Exceptional communication skills with the ability to clearly articulate compelling value propositions for TSQ's Digital Solutions
Excellent verbal and written communication skills
Superior knowledge of new/emerging digital advertising technologies and techniques
Entrepreneurial spirit, a self-starter, who works with urgency and passion
Regional travel estimated to be 25-35% of the time
Bachelor's Degree or equivalent experience is required, Advanced degree a plus
About Us
Townsquare is a media, entertainment and digital marketing solutions company principally focused on small and mid-sized markets across the U.S. Our assets include 310 radio stations and more than 325 local websites in 66 U.S. markets, a digital marketing solutions company serving thousands of small to medium-sized businesses, approximately 550 live events with nearly 18 million attendees each year in the U.S. and Canada, and one of the largest digital advertising networks focused on music and entertainment reaching more than 60 million unique visitors each month. Our brands include iconic local media assets such as WYRK, KLAQ, K2 and NJ101.5; acclaimed music festivals such as Mountain Jam, WE Fest and the Taste of Country Music Festival; unique touring lifestyle and entertainment events such as the America on Tap craft beer festival series, the Insane Inflatable 5K obstacle race series and North American Midway Entertainment, North America's largest mobile amusement company; and leading tastemaker music and entertainment owned and affiliated websites such as XXLmag.com, TasteofCountry.com, Loudwire.com, JustJared.com and BrooklynVegan.com.
Townsquare Media, Inc. is an Equal Opportunity Employer (EOE). The Company provides equal employment opportunities to all employees and applicants without regard to race, color, religious creed, sex, national origin, ancestry, citizenship, status, pregnancy, childbirth, physical disability, mental disability, age, military status or status as a Vietnam-era or special disabled veteran, marital status, registered domestic partner or civil union status, gender, medical condition, sexual orientation, or for any other reason covered by applicable federal, state and local laws. In addition, the Company complies with applicable state and local laws governing nondiscrimination in employment in every location in which the Company has facilities. This policy applies to all terms and conditions of employment, including, but not limited to, hiring, placement, promotion, termination, layoff, recall, transfer, leaves of absence, compensation and training.