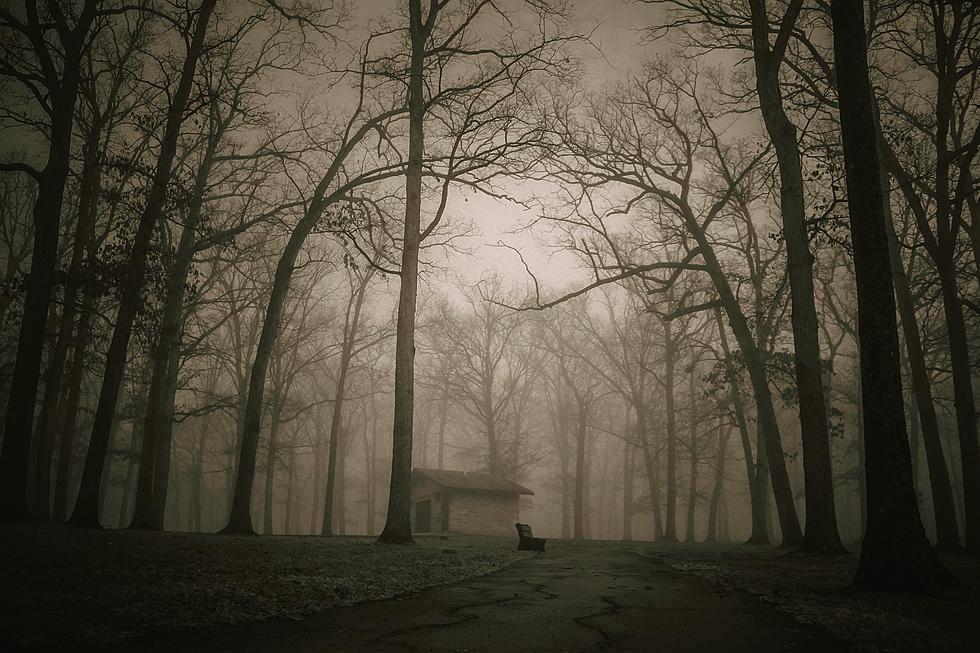 Haunted Places You Can Go To Year Round in North Texas
Unsplash User Rythick
It's spooky season year-round at these haunted North Texas locations and you can visit one of these places whenever you want.
Keep Scrolling to Check Out the Full List of Haunted Places in North Texas
Halloween decorations are starting to go up in stores. People are starting to talk about pumpkins and haunted houses are a few weeks away from opening up to scare the crap out of you. Let's say you can't wait til Halloween and want to get scared NOW. Here is where you can go in North Texas whenever you want.
Moeller Road - Electra
This is the closest one to us in Wichita Falls. Over in Electra, Moeller Road has had strange tales for several decades. The most famous part of the road has been nicknamed 'Screaming Shelia Bridge'. The bridge now sits on private property, but the tale goes a man hit a woman and pinned her on the bridge. The car caught on fire and burned her alive. Folks have said they feel warm while driving down the road.
Stockyards Hotel - Fort Worth
Although their website ignores their haunted history, people have complained to the hotel about being woken up in the middle of the night to strange noises. Folks who have stayed on the second floor apparently have the most paranormal activity. The hotel has allegedly had three people kill themselves on the premises. Two of them were rodeo performers decades apart and another was a worker at the hotel itself. Are they the ones haunting the hotel?
Miss Molly's Hotel - Fort Worth
Miss Molly's is the total opposite of the Stockyards hotel. They embrace the supposed haunted hotel name. This was a former brothel back in the day and the current owner says she has had complaints of paranormal activity in every room. Toilets flushing on their own, lights turning off and on, strange noises.
Alton Bridge "Goatman's Bridge" - Denton
The story with this one is pretty creepy. Allegedly a man by the name Oscar Washburn was a successful goat farmer in Denton at the time. In 1938, some Klansmen did not like that a black man was having success in their area. The story goes they broke into his house, kidnapped him, and took him to this bridge just up the road from his house to hang him. When they threw him over the bridge, his body disappeared. The Klansmen then allegedly went and murdered Washburn's family. Folks now dare each other to cross the bridge with their headlights turned off in the hopes of seeing "The Goatman".
Haunted Hill House -Mineral Wells
This place fully embraces their haunted history and BOY do they make you pay for it. $450 per night to stay here during the week. $550 on a weekend. In Mineral Wells, the Bakar Hotel gets a lot of love, but you would get a trespassing charge for going their back in the day. Many people become nauseous, some get a headache and ill upon entering the grounds. They actually don't even allow kids to stay on the premises and they don't encourage pregnant women to stay either. Supposedly nine different residential spirits are on the property.
Hill House Manor - Gainesville
Another Hill House? Sure why not. This one supposedly had a murder at it back in the day. Two guys were allegedly fighting over a prostitute. One of the guys murdered the other one and is said to be haunting the residence to this day. They offer tours throughout the year if you're interested in visiting.
Know of any others in North Texas? Let me know. Friendly reminder these are all ones on public property or where you're encouraged to spend the night (for a fee). I know of many others that are on private property and you could be charged with trespassing, so maybe don't want to encourage others to go to those.
SWEET: Here are the most popular Halloween candies
LOOK: The states with the most UFO sightings
For each state, we've also included details of famous UFO sightings in that state. Of note is that almost three-quarters of all UFO sighting reports in the United States
occur between 4 p.m. and midnight
, and tend to peak between 9 and 10 p.m. Food for thought next time you're out scoping for alien life. Keep reading to see which states have had the most UFO sightings.
Gallery Credit: Nicole Caldwell & Matt Albasi