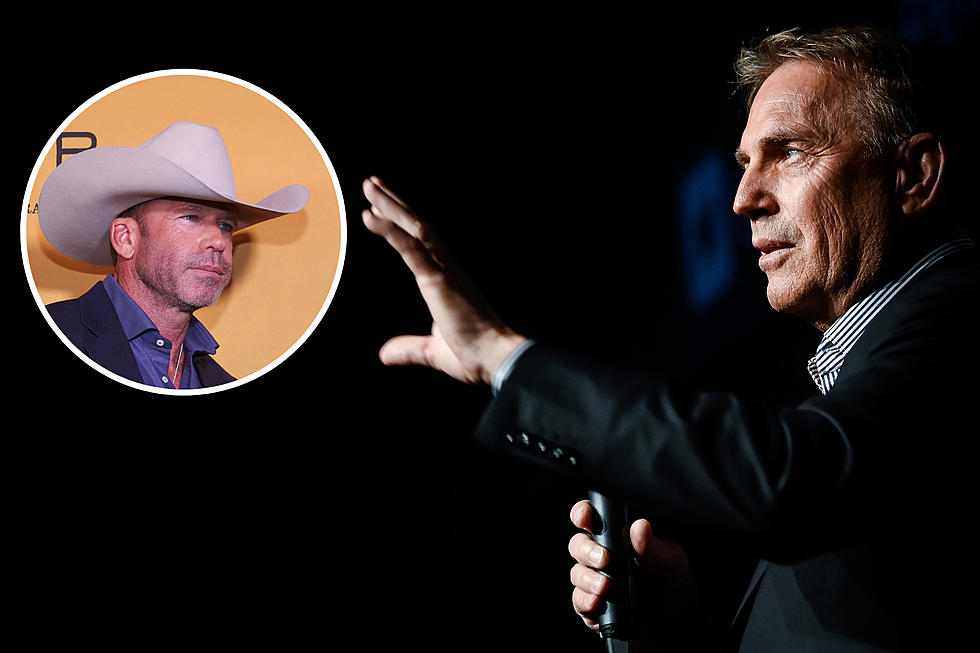 'Yellowstone' Creator Taylor Sheridan Opens Up About Kevin Costner's Exit
Samuel de Roman/Omar Vega, Getty Images
Kevin Costner is reportedly exiting Yellowstone during the second half of Season 5, and in a new interview, Yellowstone co-creator and writer Taylor Sheridan says he is "disappointed," but he understands why things landed the way they have.
Costner has been in a very public standoff with the producers of Yellowstone over his shooting schedule for the second half of Season 5, which conflicts with an epic Western he is directing, producing and starring in titled Horizon. Paramount announced in May that Yellowstone will return in November, and those episodes will bring the series to a close. The network's announcement did not address Costner's participation amid rumors that his character of John Dutton will die early in the new episodes.
Costner has been maligned in the press as the news of Yellowstone ending has become public, but a source tells the Hollywood Reporter that the Oscar-winning actor and director has been "waiting on scripts," adding that he has repeatedly blocked out time to shoot, only to see those plans scuttled as Sheridan works on a number of other projects for Paramount.
"Kevin's been unfairly portrayed in this thing," the source tells THR. "How can you schedule something when there are no scripts? [Sheridan's] doing eight other shows."
"My last conversation with Kevin was that he had this passion project he wanted to direct," Sheridan tells THR. "He and the network were arguing about when he could be done with Yellowstone. I said, 'We can certainly work a schedule toward [Costner's exit],' which we did."
"My opinion of Kevin as an actor hasn't altered," Sheridan notes. "His creation of John Dutton is symbolic and powerful … and I've never had an issue with Kevin that he and I couldn't work out on the phone."
"But once lawyers get involved, then people don't get to talk to each other and start saying things that aren't true and attempt to shift blame based on how the press or public seem to be reacting," the show's creator continues. "He took a lot of this on the chin, and I don't know that anyone deserves it. His movie seems to be a great priority to him, and he wants to shift focus. I sure hope [Horizon is] worth it — and that it's a good one."
"I'm disappointed," Sheridan states. "It truncates the closure of his character. It doesn't alter it, but it truncates it."
Paramount has announced that a Yellowstone sequel will launch on the heels of Yellowstone ending, with Matthew McConaughey all but confirmed to star.
As part of Taste of Country's comprehensive coverage of all things Yellowstone, check out our Dutton Rules podcast on Apple Podcasts and Spotify.
PICTURES: See Inside Kevin Costner's Spectacular Colorado Ranch
Yellowstone star Kevin Costner lives the ranch life when he's off the set of the hit show, too. The Oscar-winning actor owns a 160-acre ranch in Aspen, Colo., that's a spectacular getaway, complete with a main residence, a lake house and a river house.
The luxury retreat also features a baseball field, a sledding hill, an ice rink, multiple hot tubs and views of the Continental Divide. The ranch property comfortably sleeps 27 people, and it's currently available to rent for 36,000 a night.
22 'Yellowstone' Facts You Probably Didn't Know
How big of a fan of
Yellowstone
are you? These 22 facts about the Paramount Network show are sure to stump even the most dedicated viewers. They're almost all about the cast members and their real-life passions and roles. John's kids? Beth's accent? Rainwater's guitar playing? Tate's spoilers? It's all part of this list of 22 Facts You Probably Didn't Know About Yellowstone.