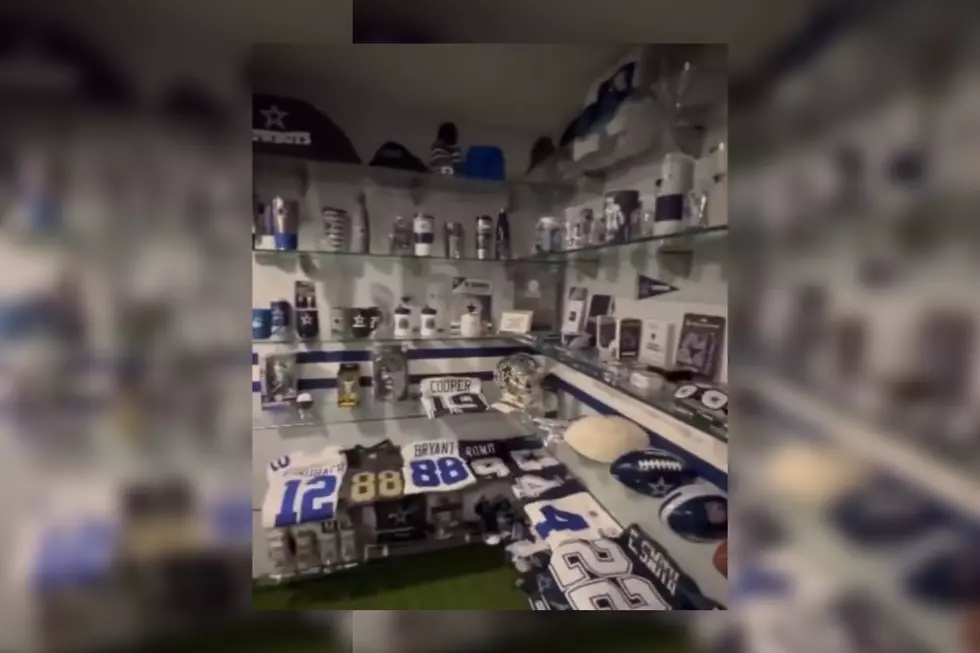 Take a Video Tour of the Ultimate Dallas Cowboys Fan Cave
Twitter: Dallas Texas TV
I really need to step up my Cowboys fandom.
Make no mistake about it, it's pretty clear where my loyalties lie once you set foot in my house. I'm a total North Texas homer when it comes to professional sports and I'm not shy about it (even though it's been quite painful as of late).
But as proud as I am of the Cowboys, Mavs, Rangers, and Stars memorabilia I have on display in my office and man cave, my personal space pales in comparison to this Cowboy fan's cave.
As I sit here and try to think of ways to describe it, the only thing I know to say is that it's like walking into a combination pro shop/theatre that just so happens to be located in a basement.
Take a look at it for yourself.
Not too shabby, huh? There isn't a Cowboys fan on the planet who wouldn't feel the least bit of envy while watching that.
Of course, the haters (who can suck it) made it a point to remind us fans that it's been a long time since the 'Boys have sniffed a championship.
Hate all you want. That's a badass cave.
Looking Back at the Dallas Cowboys 2021 Season
The Cowboys 2021 season got off to a strong start with a close game against the defending champion Tampa Bay Buccaneers. Even though they lost the game, the Cowboys managed to keep it close, giving fans hope for a deep playoff run. They followed that game up with an impressive 6-game winning streak. However, things started to fall apart in the second half of the season, resulting in a disappointing home loss to the San Francisco 49ers in the Wild Card round of the playoffs.
Evolution of the Dallas Cowboys' Uniforms
The Definitive Ranking of Texas Professional Sports Mascots
I am a Dallas fan for pretty much everything, except baseball. Sorry, grew up in Baltimore so the Orioles are my team. However, when it comes to my mascot list below, I am being 100% honest. I think my choices will honestly shock you.