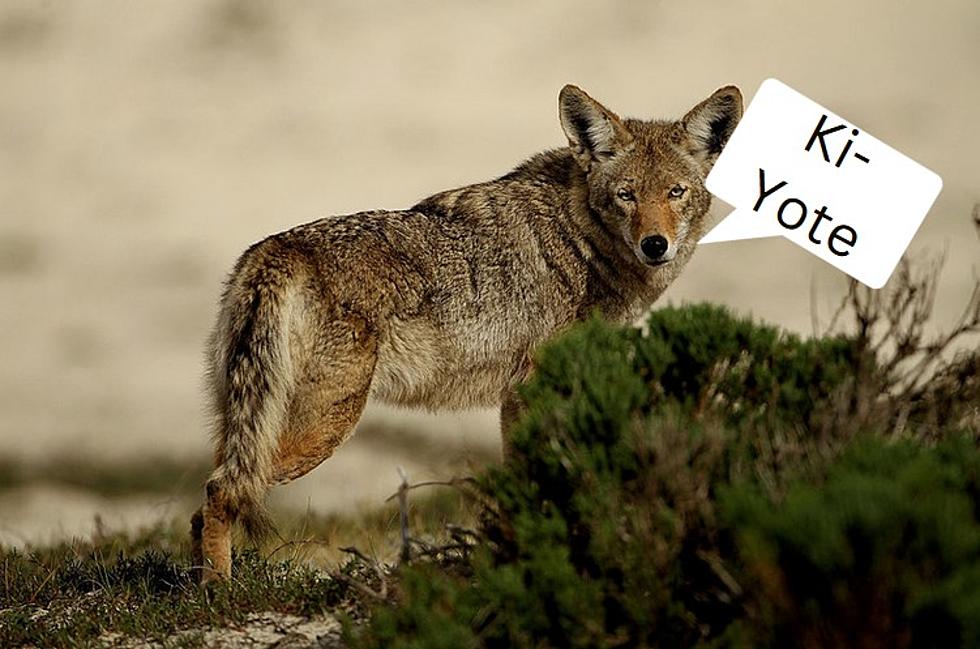 Why Does Wichita Falls,Texas Pronounce Coyote The Way They Do?
Getty Images
This weekend the Old High Coyotes have their first game of the season and I have always been fascinated why people pronounce coyotes the way they do in this town. So let's do some research.
Dictionary Pronunciation
Since moving to Wichita Falls in 2007 I have been fascinated as to why everyone in this town pronounces Coyote like "Ki-Yote". Have I been taking crazy pills my whole life, is it not "Ki-Oh-Tee"? Well Merriam Websters above says this is how it should be pronounced.
'Chiefly Western" Pronunciation?
What the hell is a "Chiefly Western" pronunciation? It means that a word or phrase is primarily used in a specific dialect or regional variation of a language, rather than being commonly used in the standard or official version of the language. Oh so Wichita Falls is pronouncing it differently than everyone else and I am not crazy?
Blame Looney Tunes
Hang on! Wile E. Coyote can talk?! I am used to him holding up signs for speech trying to catch the roadrunner. I found a cartoon from 1956 where he actually pronounces his name like "Ki-Oh-Tay". Never thought I would see the day where Wile E. Coyote pulls out a business card with his name (1:28 mark in the video).Fun fact, the E stands for Ethelbert.
So how has the Chiefly Western pronunciation stuck all these years in Wichita Falls?
A Famous Cowboy Burial Song Perhaps?
According to Times Record News, the song "Bury Me Not on the Lone Prairie" is how some learned this different pronunciation of coyotes. The song was first recorded all the way back in 1910 and has been covered by countless artists throughout the years. According to Wikipedia, it's considered one of the greatest Western songs of all time.
If you're looking for a more 'modern' version of the song. It was actually recently used in one of the Red Dead Redemption games. You can hear the pronunciation of "Ki-Yote" at the 28 second mark in the video above. Every version of this song has coyote pronounced like how we say it in Wichita Falls.
If anybody knows any other reason why we do this in Wichita Falls please let me know. Would love to get some more info on it.
Texoma High School Mascot Battle, Who Wins?
If you put all the mascots in Texoma up against each other in a fight, who comes out on top? I did a full breakdown on the science behind each logo this morning and we go from worst to first.
More Texoma High School Mascot Rankings
Today we go further into our mascot fight. Represented today is Wilbarger, Baylor, and Young counties. See where your favorite mascot lands in today's battle.