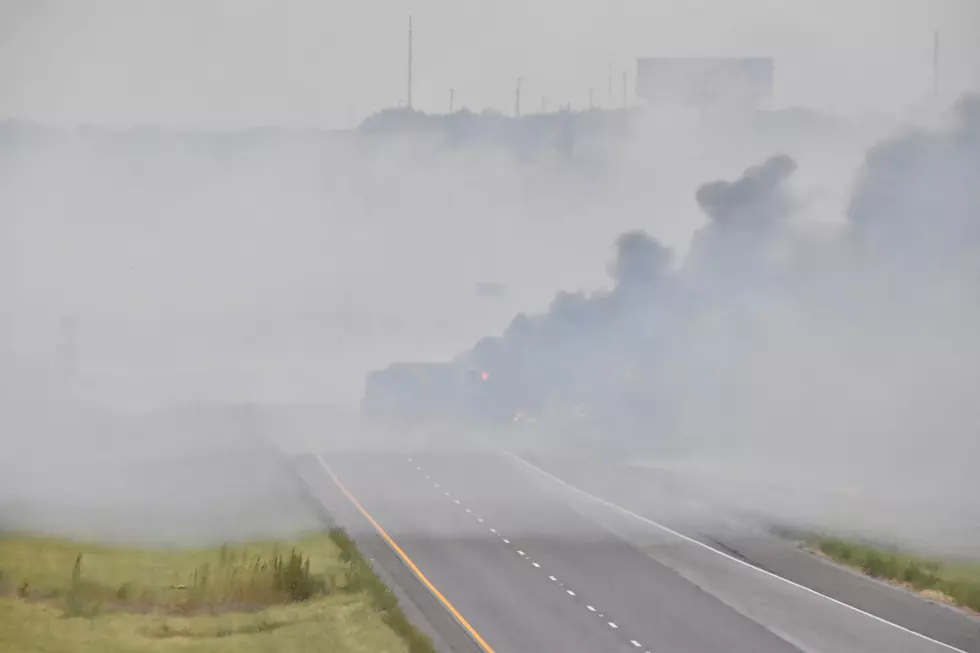 UPDATE: Massive Grass Fire Shuts Down Highway 287, Causes Fiery Car Accident [VIDEO, PHOTOS]
photo by Barry Levy/City of Wichita Falls
UPDATE (9/9/15 11:00 AM): According to Wichita County Sheriff David Duke, the fire was started from a controlled burn by a local farmer between Bell and Peterson Roads. Embers from that fire were carried by the wind and ignited the fields and brush along Hwy 287.
As the smoke from the fire covered the road on Hwy 287 near Iowa Park, a car slowed down as an 18-wheeler approached from behind. According the Sheriff Duke, the big rig swerved but hit the car anyway causing the gas tank of the car to explode completing destroying both vehicles. "It was like something out of a movie," Sheriff Duke said.
The people in the car suffered non-life-threatening injuries and were transported to the hospital in Wichita Falls.
UPDATE (9/8/15 7:00 PM): All of Highway 287 near Iowa Park is now open.
At about 3:00 PM today, police, firefighters and paramedics responded to multiple grass fires on highway 287 near Iowa Park.
The fire and smoke has caused the closure of 287 in both directions. Authorities are asking people to please avoid the area. Traffic is being diverted to Business 287 (Old Iowa Park Road) through Iowa Park.
The fires are burning between Bell and Peterson Roads. Officials say they are evacuating residents on Bell Road and North Peterson Road.
There are also unconfirmed reports of a possible fatal accident and at least three other injuries related to the fires.
We will update this story with more information as it becomes available.
BONUS!

Texoma's Most Wanted Fugitives of the Week