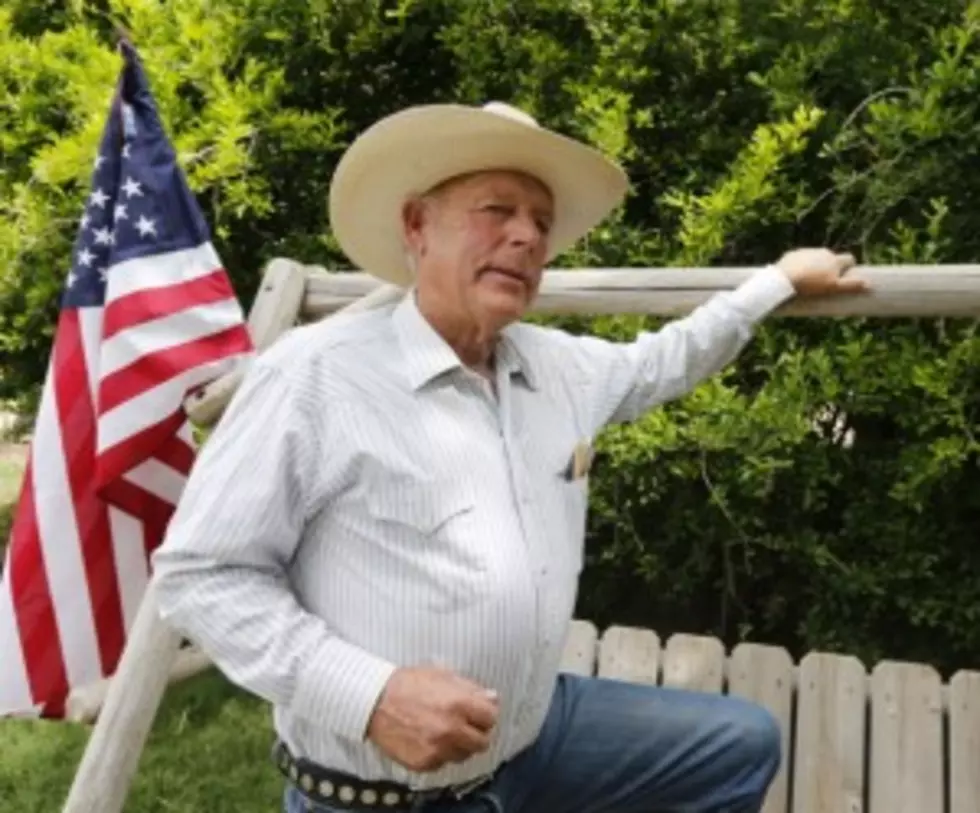 Shocking Escalation In Nevada as BLM Face Off With Rancher, Protestors
Cliven Bundy
Getty Images
North Texas, Southern Oklahoma, take note of this situation.  The BLM has begun a land grab right here along the Red River.  They (federal courts, BLM) are now demonstrating in Nevada just how little the Constitutional rights of citizens mean to them.  A similar situation could be coming to our front door any day.
The developing situation in Clark County, Nevada is reaching dangerous proportions as even more heavily-armed Bureau of Land Management officials are arriving, along with protestors and militia members.
At the center of the controversy is the ranch of Cliven Bundy.  The Bundy family has grazed cattle on so-called 'federal lands', as have other ranchers, for decades.  Here's the short version of what has been a developing controversy since 1993:
In 1993, the desert tortoise, found in the area of Nevada that the Bundy cattle have grazed upon, was placed on the 'endangered' species list.
The Feds began requiring ranchers to pay 'grazing fees' to use this land.
Bundy claims the Feds have no right to collect the money, that the land should be under Nevada control.  Bundy has been engaged in a fierce legal battle with the Feds since 1998.
Agents of the Bureau of Land Management, as well as other law enforcement, have surrounded the property, armed with automatic weapons.  Snipers have been seen on the hills near the land.  Cattle have been seized and reports of violence at the hands of the BLM have surfaced.
The video below shows just how quickly the situation is escalating. ***WARNING***
Video contains language some may find offensive-NSFW!!!
Nevada Governor Brian Sandoval has spoken out in support of the Bundy's issuing the following statement:
Due to the roundup by the BLM, my office has received numerous complaints of BLM misconduct, road closures and other disturbances. I have recently met with state legislators, county officials and concerned citizens to listen to their concerns. I have expressed those concerns directly to the BLM. Most disturbing to me is the BLM's establishment of a 'First Amendment Area' that tramples upon Nevadans' fundamental rights under the U.S. Constitution. To that end, I have advised the BLM that such conduct is offensive to me and countless others and that the 'First Amendment Area' should be dismantled immediately. No cow justifies the atmosphere of intimidation which currently exists nor the limitation of constitutional rights that are sacred to all Nevadans. The BLM needs to reconsider its approach to this matter and act accordingly.
Infowars.com
is now reporting that a connection between Sen. Harry Reid (D-NV) and this developing story may have been uncovered.  Documentation that has since been scrubbed from the BLM website shows that a solar project may be planned for this area.  Also, it's being reported that the
BLM has oil and gas lease holds
in the area that may also be a motivating factor behind this violent escalation in the removal of Bundy's cattle.