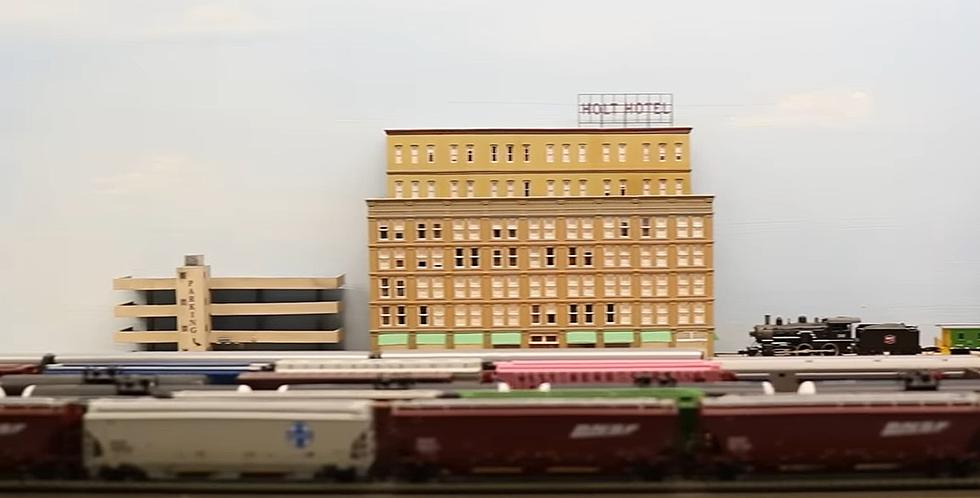 Some Guy Made a Model Railroad Set of Wichita Falls and I'm Kinda Jealous [VIDEO]
YouTube
Model trains are definitely something I could see myself getting into once I retire and this dude made one of our city.
Shout out to Ron of Ron's Trains and Things on YouTube. I discovered he has a model train set he's working on decided to show love to us in Wichita Falls, Texas. Looks like Ron is working on a train set taking up his whole basement and it looks like parts of it are dedicated to different portions of Texas. You can scroll below to check out the full video, but let's show off the Wichita Falls portion.
Attebury Grain Elevator
One of the first things people see upon coming into Wichita Falls is the Attebury Grain Elevator. I really think it would be cool if the folks that owned this allowed some artists to do something with this giant structure. Whether you're driving to Dallas or Oklahoma City, we all pass this thing. I would love to see it given a facelift in downtown.
The Holt Hotel is nice feature for his trains to pass by, but I may like the garage even more. My man Ron needs to add the new art feature on the corner of it with all the animals.
Wichita Tool Building?
Alright, this is not a real building in Wichita Falls, but Ron has a reason for it. He wanted to run some carbon black cars that carry specific loads. So since we don't have that business in our city, Ron just made one up. Cool with me man. Ron says he plans to have a freelance propane dealer in the area. I hope it's not like the King of the Hill Wichita Falls propane dealers.
Wichita Falls Propane
Bell Processing Plant
Shout out to all the folks that work at Bell Processing here in Wichita Falls. You guys get shown some love on the track as well. Here's your scrap yard in train form. You can see some piles of scrap metal and cars as well.
Wichita Tillman and Jackson Railway Building
I won't lie, I don't know what this building is in Wichita Falls so I decided to Google it and found this.
Actual Wichita Tillman and Jackson Railway Building
If that's your white truck outside, you're now immortalized in train form in Ron's train set. Ron also has parts of Fort Worth, Bowie, and Saginaw in his train set. Watch his full video below and if you just want to see the Wichita Falls portion, fast forward to the 13 minute mark.
Check Out Ron's Train Set Featuring Wichita Falls Below:
Highest Rated Outdoor Dining in Wichita Falls
Want to sit outside and enjoy a nice day in Wichita Falls? According to Yelp, this is the top ten highest rated outdoor dining experiences in Wichita Falls.
This Wichita Falls Home Was Once a Recording Studio
Back in the day, Wichita Falls was home to Nesman Studio. Who had some very famous clintel come in throughout the years, including Buddy Holly. Today though, the recording studio is gone and it's just a house at 3108 York Avenue. Check it out below.