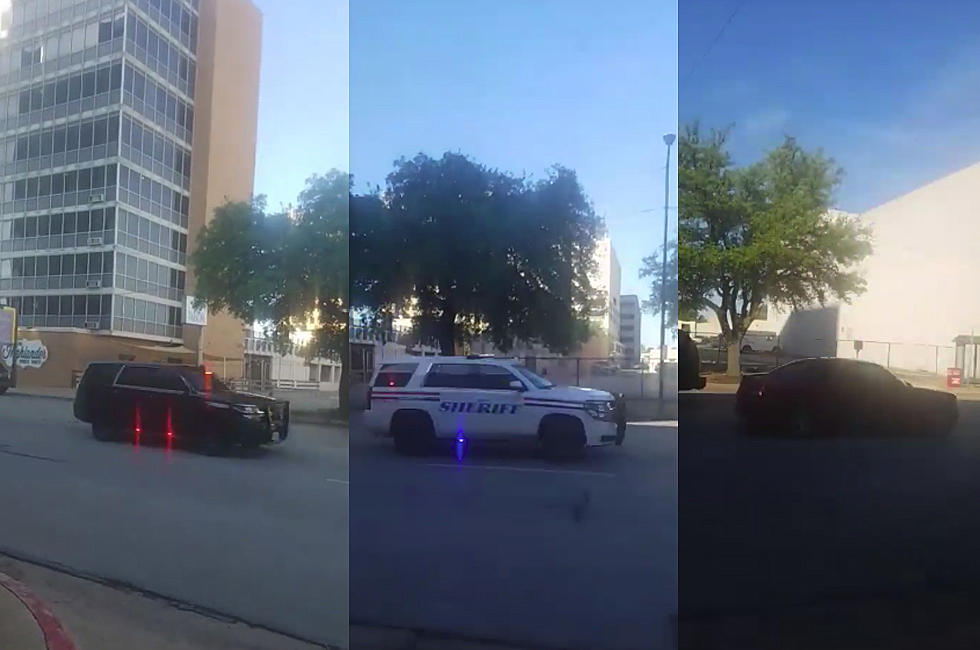 Kidnapping Suspect Killed After High-Speed Chase Through Downtown Wichita Falls Ends Near Vernon (Video)
Police chase through downtown Wichita Falls (Dane Rodriguez via Facebook)
Wichita County Sheriff's Deputies, DPS, Burkburnett Police, Iowa Park Police, Electra Police and Wilbarger County Sheriff's Deputies were involved in a high-speed chase Thursday morning.
According to the Wichita County Sheriff's Office, the chase began with the Burkburnett Police Department. They were pursuing a male suspect in a red Dodge Charger who had reportedly kidnapped a woman in Norman, Oklahoma. Wichita County Sheriff's Deputies joined the pursuit down I-44/US 281 to Wichita Falls. The suspect then turned around at Rathgeber Road and led officers and deputies through downtown Wichita Falls up Scott Avenue.
The chase continued back onto US 287/I-44 with the suspect exiting to US 287, through Wichita Falls and Iowa Park. The chase finally ended near Vernon when the suspect vehicle was finally stopped by a spike strip on US 287 near Oklaunion. At that point, the suspect repeatedly stabbed the kidnapped woman 13 times as she tried to flee the vehicle toward a deputy. The suspect was shot and killed by a DPS trooper.
The kidnapper has been identified as 22 year-old Anthony Lamar Carter of Norman, Oklahoma. The victim has been identified as 20 year-old Kaylea Butts, also of Norman. The Times Record News reports that Carter and Butts were in a relationship that Butts described as 'unhealthy'. Carter kidnapped Butts from her place of employment at around 7:30 am on April 26. Butts was airlifted from Wilbarger General Hospital in Vernon to OU Medical Center in Oklahoma City for treatment of her wounds.
Wichita County Constable Mark Brewer commended civilian motorists of both Wichita and Wilbarger Counties for their attentiveness during the pursuit and helping to clear a path during the chase. No injuries to civilians, officers or deputies were reported.
This video of the chase as they screamed down Scott Street was posted on Facebook by Dane Rodriguez. Language alert!  NSFW
---