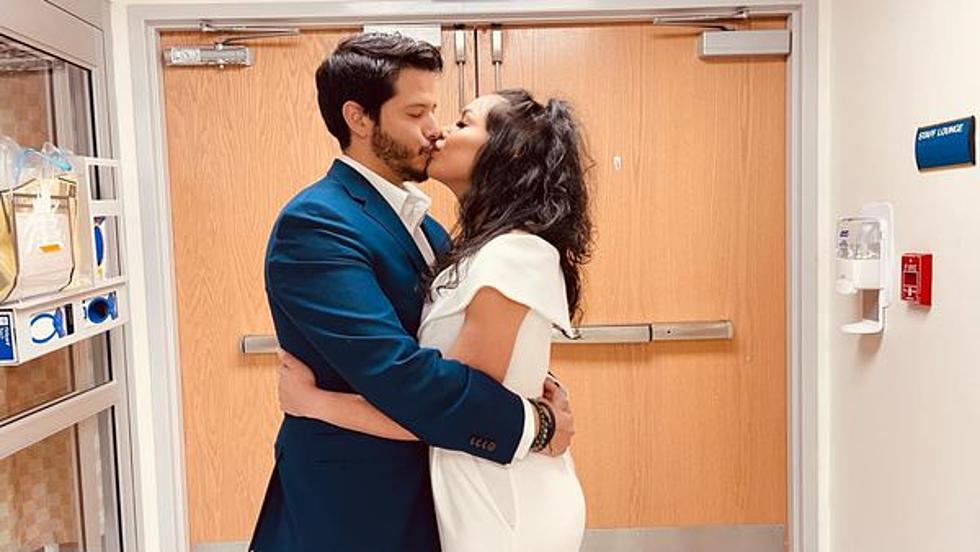 Texas Couple Exchanges Their Wedding Vows In The Hospital
Mission Regional Medical Center - Facebook Page
A Texas couple's wedding didn't exactly go as planned, and ended up taking place in a hospital instead of the venue that they originally booked.
Saul Cabrera and Dercy Aguilar were originally going to get married at a later date, at a more traditional wedding venue.  However, last week Dercy's mother then fell ill, and was admitted to Mission Regional Medical Center in Mission, TX.  She was then rushed to the hospital's ICU unit after her condition worsened.  So instead of postponing the wedding, both Dercy and her fiancé decided to move up their wedding date, and get married in the hospital.
However, they didn't exactly get married in the hospital's chapel.  Even though she was in critical condition in ICU, Dercy wanted her mother to be at her wedding.  The hospital agreed to accommodate the couple, and with the help of the hospital's staff, the couple held their wedding ceremony in her mother's room.  At 4 PM on April 4th 2022, the couple then exchanged vows with Dercy's mother right by their side.
Even though the couple never planned on getting married in a hospital room, it was very important to Dercy to have her mother present at her wedding.  While Dercy never thought that she'd get married in a hospital room, she's glad that she did, and said that in "time like these, it's important to do whatever you need to do when it comes to family without waiting."
The newlywed couple is still planning on having a wedding celebration with family and friends, which will be held at a date later in the year.
Fun First Date Ideas In Wichita Falls
Did you just match with someone on Bumble or Tinder? Wichita Falls is full of unique places that are perfect for your first date.
Stay In A Safari Tent In The Texas Hill Country
If your looking for a romantic getaway, or just want to unplug for a weekend, this Airbnb rental is the perfect place to relax and unwind. For only $135 a night you can enjoy the great outdoors, and sleep under the stars. You can book this property yourself by
clicking here
.
This Texas Rental Property With An Indoor Water Park Is Perfect For A Weekend Getaway
This luxurious rental property in the Texas Hill Country is the perfect spot for either a family vacation or a romantic getaway. What makes this place unique is that it has both an indoor water park, and a lazy river that the kids are sure to love.
If you want to rent this property, or just want more information then
click here
.