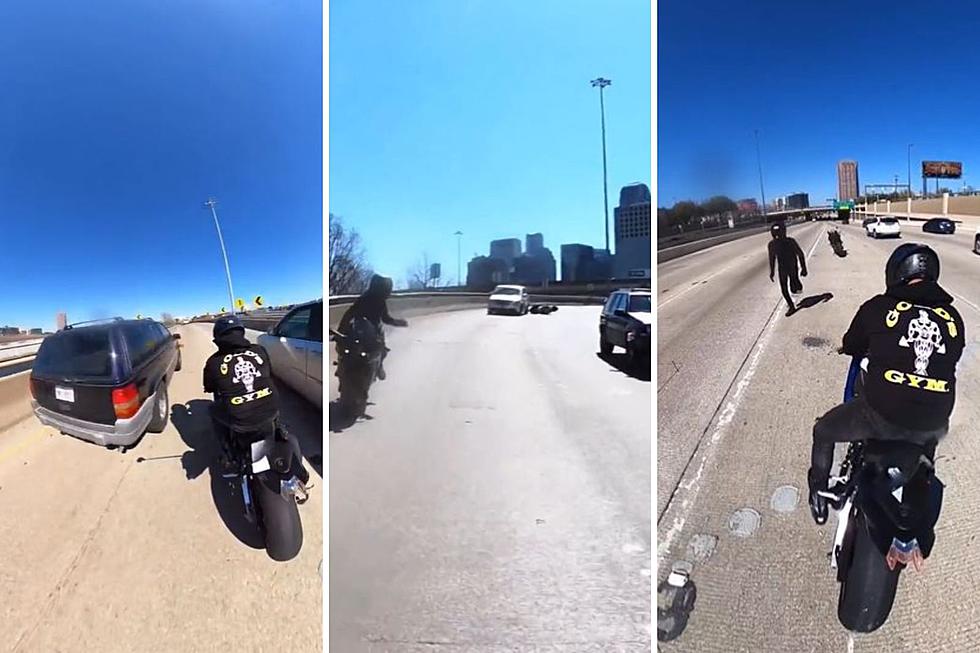 Video Shows the Moment a Biker Wrecks on Central Expressway in Dallas
Twitter: Dallas Texas TV
This is why I get nervous every time I see bikers on crotch rockets zipping through traffic.
Let me be clear in that I am no daredevil. Not in the least bit. However, I have friends and family members who are all about the adrenaline rush you get from engaging in risky behavior. To each their own, but I believe I'll just sit on the sidelines and watch.
However, it's important to know that life is full of tradeoffs.
For instance, the price of that adrenaline rush is that sometimes things may not end well for you. Hopefully, it doesn't result in injury or God forbid, death.
Things didn't end well for one biker weaving their way through traffic on Central Expressway in Dallas. In fact, it almost ended badly for two of the riders in the group.
The video shows the riders going in between cars when one of the riders goes up the barrier but manages to recover. A rider behind that one then hits the side of a minivan, sending them tumbling down the highway.
The other riders then pull into the median and one immediately starts running toward the rider that went down. The condition of the rider that went down isn't clear at this time.
Not to sound preachy, but maybe keep this in mind the next time you're tempted to jump on a crotch rocket and weave your way through expressway traffic.
Many of the people commenting on the video have no sympathy for the rider.
Texoma's Most Wanted Fugitives of the Week March 3, 2023
Texoma's Most Wanted Fugitives of the Week February 10, 2023
Texoma's Most Wanted Fugitives of the Week February 6, 2023