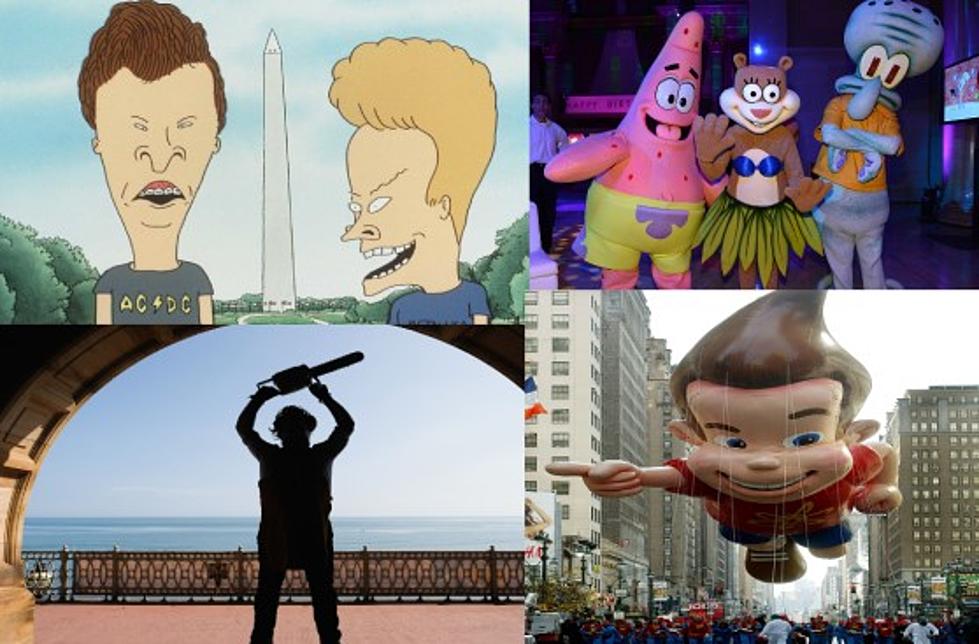 Where Would Your Favorite Fictional Texans Hang Out in Wichita Falls?
Getty Images
We have some famous Texans that are not real. What would happen if we could somehow get them to Wichita Falls? This is where they would go.
1

Beavis and Butthead

Texas Showgirls

Yes, I'm fully aware that Beavis and Butthead are not of age for Texas Showgirls. You could easily see those two hanging out in the parking lot just trying to get a peak inside to see what's going on in there. One day they will see the top of the mountain and who knows, it could be here in Wichita Falls.

2

Unlike literally everyone else on my list, Hank Hill has actually been to Wichita Falls. He apparently went to J&J's Propane back in the day. I don't think he liked the Sooner's fans there. Maybe he will enjoy Kelly's Propane which appears to be the oldest propane store in Wichita Falls.

3

Leatherface

Berend Turf and Tractor

Just want to say that I don't think anyone at Berend Turf and Tractor is a homicidal murderer. I'm only putting you guys on the list because you guys sell chainsaws. That's it! I hope no one like Leatherface ever goes to your store.

4

The Blob (from X-Men)

Grand Buffet

Fun fact, The Blob is from Lubbock, Texas. He likes to eat, so we need to give him a lot of food. Let's plop the big boy down at the all you can eat buffet and see how much damage he could do.

5

Sandy Cheeks

River Bend Nature Center

Getty Images for Nickelodeon

Getty Images for Nickelodeon

The lovable squirrel from Spongebob is a proud Texan and she would be quite welcome at River Bend Nature Center with all the other animals there.

6

Engineer (Team Fortress 2)

High Caliber Gun Range

He's from Bee Cave, Texas and loves to shoot. The gun range it is for him. Don't think I really need to explain anymore than this.

7

Today I learned Jimmy Neutron is a Texan in the town of Retroville. Jimmy is a smart kid that loves to build things. Where can a kid build things in Wichita Falls? Crashworks downtown is the perfect place for Jimmy to show off his skills. Hopefully he doesn't blow the place up, but they always help the kids out at Crashworks.

8

Wild Bill (G.I. Joe)

Sheppard Air Force Base

Wild Bill is from Brady, Texas and was the helicopter pilot for the G.I. Joe crew. I'm sure they have some helicopters over at the base you could take for a spin. If not, throw him in one of the planes. He learns quick.

9

Texas Twister

J.S. Bridwell Ag Center

Yes, the member of S.H.I.E.L.D. you may not know about. A rancher from Amarillo was affected by a tornado and radiation from a nearby nuclear reactor. The net effect was to give him the power to generate tornadoes at will. This is a real thing. He's an expert rodeo rider so he could show off his skills at the AG Center downtown.

10

Tina Armstrong (Dead or Alive)

Pro Wrestling Hall of Fame

I could have picked many things for Tina, probably a gym or place to play volleyball. Her style is described as pro wrestling in many of the games. So she would want to go check out the Pro Wrestling Hall of Fame in downtown Wichita Falls of course.