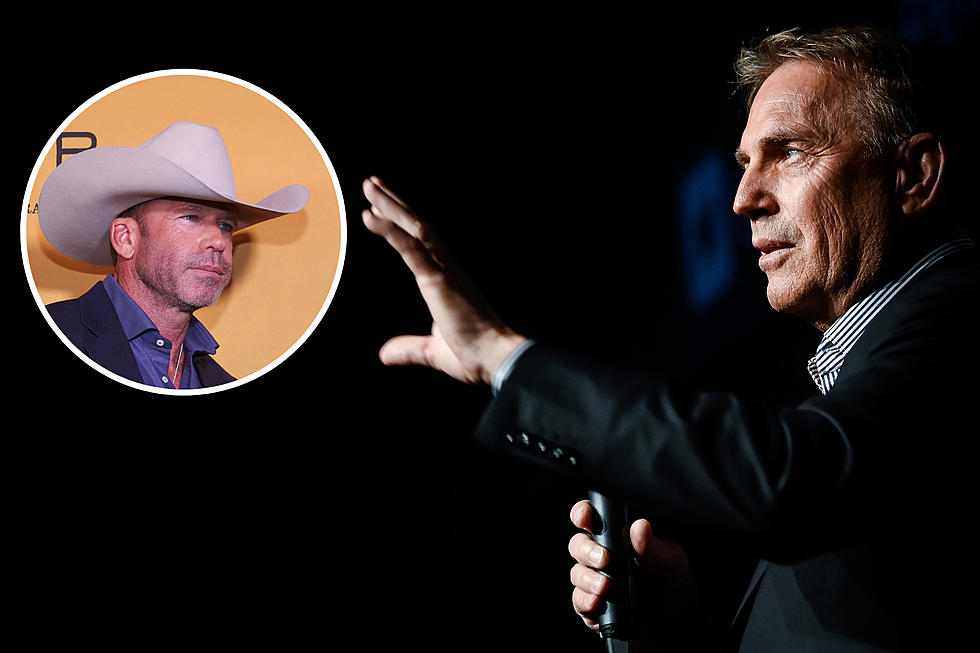 'Yellowstone' Creator Taylor Sheridan Reveals Why Kevin Costner Was 'Very Upset' With the Show
Samuel de Roman/Omar Vega, Getty Images
In a recent interview, Yellowstone co-creator and writer Taylor Sheridan opens up about reported tension between him and series star Kevin Costner, saying some of what's reported has been overblown.
Costner was involved in a public standoff with the producers of Yellowstone earlier in 2023 amid reports he was leaving the show, and one of those reports quoted an unnamed source as saying that Sheridan told Costner to "stick to acting" when the Oscar winner approached him with concerns about his character, John Dutton.
Sheridan tells the Hollywood Reporter that isn't true, but acknowledges that Costner disagreed with part of his story arc.
"I never had that conversation with Kevin," Sheridan insists, adding, "There was a time in Season 2 when he was very upset and said the character wasn't going in the direction he wanted. I said, 'Kevin, you do remember that I told you this is essentially The Godfather on the largest ranch in Montana? Are you that surprised that the Godfather is killing people?' What he's clung to is [Dutton's] commitments to his family and way of life."
"Dutton's big failing is not evolving with the times — not finding different revenue streams [for the ranch]," Sheridan adds. "Kevin felt Season 2 was deviating from that, and I don't know that he was wrong. In Season 3, we steered back into it. And I recall him winning a Golden Globe last year for his performance, so I think it's working."
Costner took home Best Actor in a Television Series — Drama for his role on Yellowstone in January of 2023. He faced off against some stiff competition; Jeff Bridges (The Old Man), Diego Luna (Andor), Bob Odenkirk (Better Call Saul) and Adam Scott (Severance) were among the other actors nominated for the award.
Costner recently revealed he's no longer under contract to Yellowstone. His character, John Dutton, will reportedly die early in the second half of Season 5, and Paramount has announced Yellowstone will come to an end after the new episodes.
Matthew McConaughey will reportedly headline a Yellowstone sequel, the details of which are to be announced.
As part of Taste of Country's comprehensive coverage of all things Yellowstone, check out our Dutton Rules podcast on Apple Podcasts and Spotify.
PICTURES: See Inside Kevin Costner's Spectacular Colorado Ranch
Yellowstone star Kevin Costner lives the ranch life when he's off the set of the hit show, too. The Oscar-winning actor owns a 160-acre ranch in Aspen, Colo., that's a spectacular getaway, complete with a main residence, a lake house and a river house.
The luxury retreat also features a baseball field, a sledding hill, an ice rink, multiple hot tubs and views of the Continental Divide. The ranch property comfortably sleeps 27 people, and it's currently available to rent for 36,000 a night.
22 'Yellowstone' Facts You Probably Didn't Know
How big of a fan of
Yellowstone
are you? These 22 facts about the Paramount Network show are sure to stump even the most dedicated viewers. They're almost all about the cast members and their real-life passions and roles. John's kids? Beth's accent? Rainwater's guitar playing? Tate's spoilers? It's all part of this list of 22 Facts You Probably Didn't Know About Yellowstone.