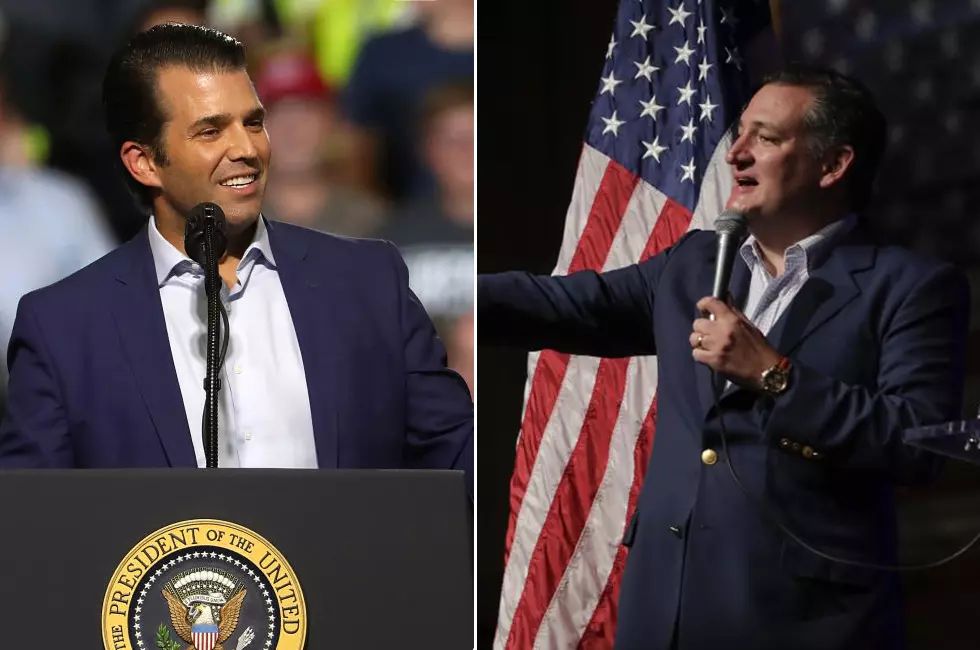 Ted Cruz, Donald Trump Jr. to Make Campaign Stop in Wichita Falls This Wednesday
Donald Trump Jr. / Ted Cruz (Getty Images)
Sen. Ted Cruz will make a campaign stop in Wichita Falls next month. The Senator will appear at the MPEC on Wednesday, October 3 at 3:00 pm. (updated time) Joining Sen. Cruz on the campaign trail will be Donald Trump, Jr.
Texas State Representative James Frank announced Cruz and Trump Jr.'s visit to Wichita Falls in a post on Facebook:
I am thrilled to announce that Senator Ted Cruz and Donald Trump, Jr. will be coming to Wichita Falls on Wednesday, October 3rd for a public rally AND a fundraising event. Ted Cruz has done a phenomenal job advocating for conservative principals during his first term as Texas Senator and it is critical for the country and for Texas to make sure we send him back to Washington for a second term. The ability of Cruz to win, and win big, at the top of the ticket will also have tremendous impact on state House and Senate races across the state. Please make plans to attend the public rally at 3:45pm on October 3rd at MPEC and then to early vote for Cruz starting Oct 22nd.

There will also be a fundraising event with both men that day as well. If you'd like more details about that or how to donate to Cruz's campaign, send me a message and I'll get additional information to you.
The campaign stop is just 19 days ahead of the start of early voting for the November general election.