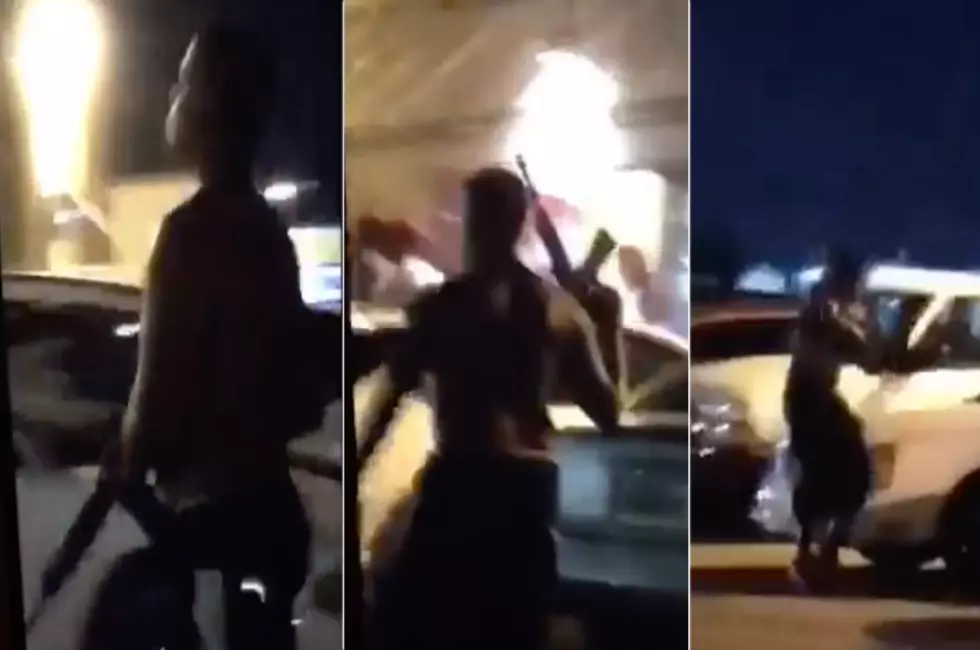 Video Surfaces of Man With Semi-Auto Rifle at Location of Deadly Wichita Falls Shooting
Screen grabs via Facebook
UPDATE (8/29/18): The four deadly conduct charges have been dropped against Trevon Johnson, KAUZ reports. Johnson was initially arrested in connection with the shooting, but police have now issued a murder warrant for 24-year-old Trayvon Strawn, one of the people injured in the shooting.
A Facebook user has shared a video that was allegedly taken at a bar on Sheppard Access Road moments before a deadly shooting Sunday (Aug 26).
Lee Coleman shared the now-deleted video that may show someone other than the man who has been arrested in connection with the shooting walking around the parking lot of the bar with what appears to be a semi-auto rifle. The man in the video could be the brother of the man arrested.
Police arrested 19-year-old Trevon Demarcus Johnson in connection with a shooting at Studio E (formerly Birdland South) early Sunday morning.
According to the Wichita Falls Times-Record News, police responded to a report of gunshots at the bar at 3:24 am Sunday. Officers discovered several gunshot victims. At least one person was taken to United Regional by private vehicle and one was transported by AMR ambulance. In total, four victims were treated. One of the four, Davonta Jason Combs, 26, died as a result of a gunshot wound to the chest.
A security guard reportedly told police that several individuals in the club got into an argument. He told detectives that he recognized two of the men involved and that they were brothers. The security guard pushed one of the brothers, Trevon Johnson, out the front door of the club and another man, presumably Johnson's brother, followed.
Witnesses say Trevon Johnson got into a car with three others, and then his brother exited the vehicle and retrieved a gun and went back into the club. Johnson then reappeared at the club's entrance and began shooting with a handgun back into the building.
Johnson remains in the Wichita County Jail in lieu of an $800.000 bond.
---
MORE: Views From The World-Famous Hotter'N Hell Hundred